I am so excited! In less than 2 weeks I will be back in Savannah filming with Paula Deen. About a year ago this Mom/Wife had a huge life change! I can still remember exactly how I felt when Paula called my name. In honor of my return to Savannah and the RWOP live event, I simply must share some of the favorite recipes I have gathered!
Here is Uncle Bubba's (aka Paula's brother) amazing Shrimp and Grits recipe! It is by far the best thing I put in my mouth. In Savannah they eat grits for breakfast, lunch and dinner!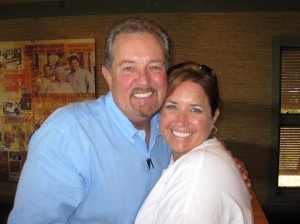 Uncle Bubba's Shrimp and Grits
4 tablespoons (1/2 stick) butter
2 teaspoons salt
2 cups quick grits
1/4 cup chopped applewood smoked bacon
1/2 cup diced onion
2 tablespoons each, diced red and green bell peppers
1/4 diced leek
1/2 teaspoon minced garlic
36 medium shrimp, peeled, tails removed, and deveined
3/4 cup flour
1/2 cup dry white wine
1 quart heavy (whipping) cream
1/2 teaspoon salt
1/2 teaspoon ground black pepper
1/2 teaspoon garlic powder
1/4 teaspoon Tabasco
TO PREPARE THE GRITS:
In a medium saucepan on medium-high heat, bring 6 cups water, the butter, and salt to a boil. Slowly whisk in the grits. Continue whisking occasionally for about 5 minutes, until the grits are thick and tender. Remove from the heat and keep warm.
TO MAKE THE SHRIMP GRAVY:
Saute the bacon in a large heavy saucepan over medium-high heat until the fat is rendered.
Stir in the onion, peppers, leek, and garlic and cook until soft. Add the shrimp and stir to combine. Sprinkle in the flour, and stir, making sure all of the flour is well incorporated. Add the wine and cream, stirring well until the sauce has thickened.
In a small bottle or bowl, mix the salt, pepper, and garlic powder and season the gravy to taste.
Serve the shrimp gravy over grits.
My next treat was when I went to the back door of Mrs. Wilkes. Wow…that food was out of this world! I also had the supreme pleasure to meet this kind woman who was de-stemming collard greens while I waited. She and I chatted while I waited to them to give me my to-go box! I also got a lesson on collard greens.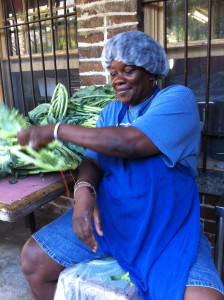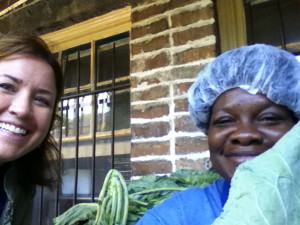 Savannah Collard Greens
1/2 pound smoked meat (ham hocks, smoked turkey leg)
1 tablespoon Sassy salt
1 tablespoon Tabasco
2 bags collard greens, washed
1 tablespoon butter
In a large pot, bring 3 quarts of water to a boil and add smoked meat, sassy seasoning salt, seasoned salt and Tabasco. Allow smoked meat to cook in the "bath" for 1 hour!
Wash the collard greens thoroughly. Remove the stems that run down the center by holding the leaf in your left hand and stripping the leaf down with your right hand. The  Stack up leaves on top of one another, roll up, and slice into 1/2 to 1-inch thick slices. Place greens in pot with the smoked meat bath and add butter. Cook for 45 to 60 minutes, stirring occasionally. When done taste and adjust seasoning.
Mama's Sassy Seasoning
3 tablespoons kosher salt
1 tablespoon paprika
1 tablespoon celery salt
2 teaspoons garlic powder
1 teaspoon sugar
1 teaspoon onion powder
1/2 teaspoon cayenne
1/2 teaspoon tumeric
Mix ingredients together and store in an airtight container for up to 6 months.
Nothing tastes better than this little gem of a cake! I had heard that this was the bakery that Paula shopped at so I just had to check it out for myself! I fell in love with a cake called Mississippi Mud Cake. It is moist, gooey and ever so decadent all in one bite.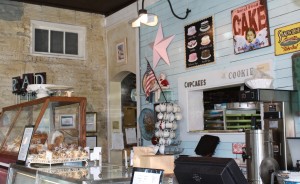 Mississippi Mud Cake
1 cup unsalted butter
1/2 cup cocoa
1 teaspoon coffee, brewed
2 cups sugar
4 large eggs, slightly beaten
1 1/2 cups all-purpose flour
1 dash salt
1 teaspoon vanilla extract
1 1/2 cups pecans     (optional)
4 cups mini marshmallows
Chocolate frosting
1 (16 ounce) package powdered sugar, sifted
1/2 cup milk
1/3 cup cocoa
1/4 cup softened butter
Preheat oven to 350°F. Lightly grease a 9×13 inch pan. Melt the butter in a medium saucepan. Add the cocoa and stir. Remove from the heat. Pour butter mixture into a mixing bowl and add sugar and eggs. Mix until blended.8Add the vanilla. Mix in the flour and salt. Stir in the pecans. Put batter into prepared pan and cook for 35 minutes or until done. Remove from oven and sprinkle with marshmallows. Cool in the pan on a wire rack. For the frosting: Combine all of the ingredients and mix until smooth. Spread frosting on cooled cake. If your frosting is too thick, add more milk.
In honor of my trip back to Savannah! I will be giving away 2 AUTOGRAPHED cookbooks from Paula Deen herself! I will have her dedicate it to whomever you wish! What a treat not to mention an amazing cookbook! All you have to do to enter to win is:
*Comment on this post
*Join the Sassy Recipe Club (get 2 bonus entries)
*Join me on Facebook at Fat n Sassy Mama
*Follow me on Twitter!