I wish I did not snack but I do. Snacks are the best! I am so excited to share some of my families favorite snacks we make!
When I was growing up we did not have a ton of snacks laying around but my Mom did make homemade granola bars. Hers were crunchy and comparable to card board. Since I love the chewy ones I took a little of Mom's recipe along with some of my own experimenting. I make these quite a lot and my husband always poo poo's my efforts till they cool and he munches into a bar. The ones from the store may be easier to buy and unwrap however they all taste like nothing. I was to taste the bit of fruit and be able to differentiate between them. Those store bought ones are just sugar and junk carbs. Mine are made with whole grain oats, wheat germ, unsweetened coconut, almonds, honey, vanilla bean paste and fresh fruits! I dare you to read the label on your granola bars in the pantry….



Not Your Hippie Mama's Granola Bars
2 cups old fashioned oats
1 cup unsweetened flaked coconut
1 cup sliced or finely chopped unsalted almonds
1/2 cup toasted wheat germ
1/2 cup sunflower seeds
2/3 cup honey
1/4 cup dark brown sugar
3 tablespoons unsalted butter
1 teaspoon vanilla paste
1/2 teaspoon kosher salt
1/2 cup dried cherries, chopped
1/2 cup apricots, dried
1/2 cup dried mango, chopped
Preheat oven to 350 degrees. Spray a 9×13 pan with nonstick cooking spray. In a large bowl combine the oats, coconut and almonds. Pour the ingredients onto a large baking sheet and place it in the oven. Bake for 10-13 minutes or until toasted. Once golden brown remove from oven and allow to cool. Lower oven temperature to 300 degrees.
In the meantime using a medium sized saucepan on medium heat combine the butter, brown sugar, honey, salt and vanilla paste. Allow mixture to come to a boil and stir for 1 minute and then remove from the heat.
In the same large bowl used earlier, add the toasted ingredients as well as the wheat germ. Mix together. Pour the butter/honey mixture over the oats and stir till well combined. Add in dried fruits and mix well. Pour into the 9×13 pan. Using damp hands press granola till flat in pan. Place into oven and bake for 25-30 minutes. Remove from heat and allow to cool for 2-3 hours before cutting. Cut into squares.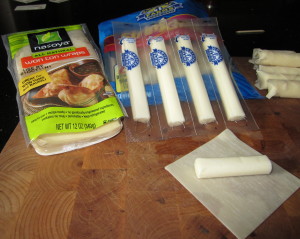 Baked Cheese Sticks
1 package wonton wrappers
1 package of mozzarella cheese sticks
water
olive oil
1 teaspoon italian seasonings
marinara sauce
Preheat oven to 400 degrees. (I use a toaster oven for mine!) Cover a baking sheet with parchment paper.
On a cutting board, cut each cheese stick in half. Place one wonton wrapper on the board. Wet the all the sides with your finger. Place a piece of cheese in the center of the wonton wrapper. Fold in the sides and then roll. Dampen end edge so it will stick.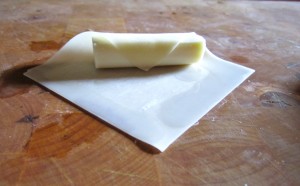 Set on baking sheet. Continue wrapping till you have enough cheese sticks. Using a pastry brush, coat the outside of the cheese sticks. Sprinkle with kosher salt and italian seasonings. Place in hot oven and bake for 15 minutes. Turn cheese sticks and cook till golden brown (about 8 minutes.) Serve warm with marinara sauce.
*I make a bunch at one time and keep in a Ziploc bag inside the fridge for quick snacks all week long!
Roasted Garbanzo Beans
3 (15-ounce) cans garbanzo beans
4 tablespoons olive oil
Kosher Salt
Spices of your choice (I love santa fe)
Preheat oven to 400F.
Drain the cans of garbanzo beans in a strainer and rinse with water for a few seconds to clean off the beans. Shake and tap the strainer to rid of excess water. Lay dish towel on a baking sheet, and spread the beans over. Use another dish towel absorb the water on the beans. Roll the beans around with the dish towel to also remove the thin skin from any of the beans. Discard the skins.
In a large bowl, drizzle the olive oil over the beans and use your hands or a spatula to toss around and coat. Roast for 30-40 minutes until the beans are a deep golden brown and crunchy. Make sure that the beans do not burn.
Season with kosher salt and spice blend.