Growing up in Bartlesville, OK I never went to the "State Fair." But once I hit the University of Oklahoma in the early 90′s I was introduced to the wonderful yearly event that would take over the huge Fairgrounds in downtown Oklahoma City. The Fair meant amazing smells, super people watching and then oh my gosh…THE FOOD! I walked around in wonderment just enthralled with all of the vendors, their trailers and then the food they prepared! Simply incredible! After my initial shock and gorging myself till I was just sick I learned to pace myself. Now every year I get the same thing…Dan's Indian Taco and those decadent cinnamon rolls! Only problem is that once the Fair leaves town I am left missing my favorites for a year! But NOT ANY MORE!!
I have worked over the years to figure out just what makes these dishes so memorable. Now I can recreate in my own kitchen!! No more waiting….
My Indian tacos are so simple! If you are not from Oklahoma or the Midwest let me explain what exactly this delicacy is….It is a large round of Indian Fry Bread (Kind of a cross between a sopapilla and Naan), topped with ground beef or shredded beef braised in taco seasonings, crisp lettuce, tomatoes, red onions, shredded cheese, salsa and sour cream. If you are from Oklahoma then I have found Shawnee's Best Self Rising flour to work best. If not then King Arthur's Self Rising Flour is my next favorite!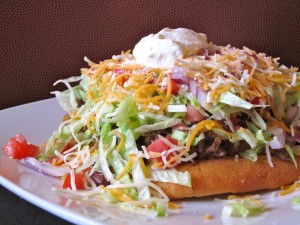 Caryn's Indian Tacos
4 cups Shawnee Mills Self Rising Flour
2 cups whole milk pinto or Ranch style beans
2 pounds ground beef, browned
1 package taco seasoning shredded
iceberg lettuce
chopped tomatoes
red onions, chopped
cheddar cheese, shredded
salsa
sour cream
canola oil for frying
Heat a large cast iron pot with canola or vegetable oil till hot. In a large bowl, mix together the self rising flour and whole milk. Mix just till it comes together. It will be sticky. Do not over mix! Spoon out a baseball sized ball and place on a well floured board. Knead just till not too sticky. Flatten with your hands till it is about 4 inches wide and about 3/4 inch thick. Do not over work…It will make for tough bread. Place 1 round in the hot oil. It will bubble and come to the top. Allow to fry till golden brown and then flip with tongs. Once brown on both sided place on a paper towel lined cookie sheet. Continue till all breads are fried. To serve: Top fry bread with Ranch style beans, ground beef, lettuce, tomatoes, red onion, cheese, salsa and sour cream.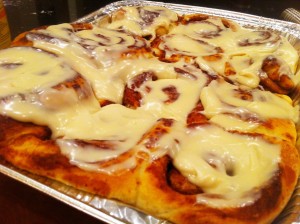 State Fair Cinnamon Rolls
1 package Rhodes bread dough
3 cups brown sugar
4 tablespoon cinnamon
2 sticks unsalted butter, melted
flour
Preheat oven to 350 degrees. Then turn off heat. (Going to use this for rising)
Defrost bread dough on the counter for 4 hours or in refrigerator overnight. In a medium sized bowl combine the brown sugar and cinnamon. Set aside. On a floured board roll out 1 of the dough logs til 6 inches wide and 8 inches long. Brush dough with melted butter and then add 1/2 cup of cinnamon sugar mixture. Press lightly onto dough. Roll dough lengthwise. Using dental floss cut dough log into 4 equal pieces. Repeat with remaining bread logs until there are 12 cinnamon rolls.
Place rolls into a 9×13 baking pan that has 1 stick of butter melted into the bottom. Pour remaining butter over the top of the rolls. Top with any left over sugar. Place into OFF warm oven and allow to rise 1-1 1/2 hours. The rolls with double in size. Remove from oven.
Preheat oven to 350 degrees and bake rolls for 25-30 minutes or until golden brown on top. Spread on cream cheese frosting and serve warm!
Cream Cheese Frosting
1 package cream cheese
1 stick unsalted butter, softened
6 cups powdered sugar
1 tablespoon vanilla paste
In a food processor mix all of the above items till smooth. If frosting is too loose add more powdered sugar. Make extra and freeze between uses!