I am a strong believer that kitchen gadgets are great but there are some that just are timeless and stand alone. I can still remember the Christmas when my Grandma and Mom got theirs. They squealed and screamed while dancing around the Christmas tree. I was a kid so I was wondering what was all the fuss about a KitchenAid Mixer. Well, I am a believer NOW. I cooked my first Thanksgiving meal at the age of 13. I can still remember when it came time to learn to make my Grandma's rolls. She brought in her harvest gold KitchenAid mixer from the car and set it right next to mine. She taught me the art of creaming butter, adding in the eggs one by one and then the delicate balance of adding the dry ingredients in with the wet. It was a dance between two generations and our Kitchen Aids. It was a day I will never forget and my first introduction to the world of KitchenAid. (Do not laugh at the bad hair and glasses…it was the early 80′s!)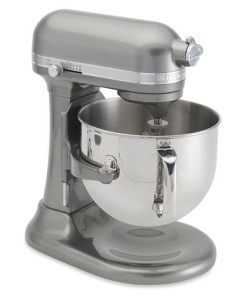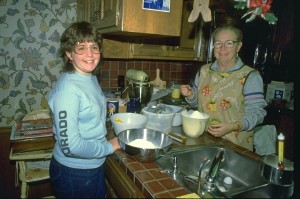 I have been a long time consumer of KitchenAid products. Through the years I have acquired many of their appliances but my favorite is still the Stand Mixer. In fact, I have already told my daughter that she can have my pink one when she leaves home. My gift to her so she can share her love of cooking with others! Through the years KitchenAid Mixers really have not changed a lot in the way they look but boy have they been fine tuning that motor!!!
Get ready to meet KitchenAid's newest Stand Mixer!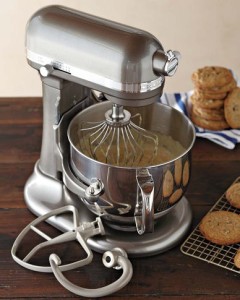 I am pleased to introduce you to the largest, most powerful – and quietest – KitchenAid mixer ever made. With a more than enough 7-qt. capacity, this machine equips home bakers with a full range of high-performance commercial features for fast, efficient mixing and quality results.

Commercial design includes a bowl lift and heavy-duty metal knobs.
1.3-horsepower motor delivers robust mixing and kneading with surprisingly quiet operation.
Planetary action allows attachments to spin independently while making continual rotations around the bowl for thorough mixing.
Ten speeds range from very slow stirring to very high beating.
Polished  7-qt. cap. stainless-steel bowl with comfort handle.
Professional whip with 11 stainless-steel wires operates 33% more quickly than typical whips for optimal aeration of egg whites or cream. (This means effortless whipped cream and egg whites!)
Commercial power hub works with all KitchenAid attachments.
Hand assembled in Greenville, Ohio, home of KitchenAid since 1919.
Includes wire elliptical whip and a flat beater and dough hook.
This new mixer Retails for $650! It is the Porsche of Mixers. I promise if you have this on your counter and a foodie enters your kitchen they will comment on your new KitchenAid!!
I am so thankful everyday for the blessings I am given so I am thrilled to announce…
GIVEAWAY
FOR THE NEWEST QUIETEST AND STRONGEST
KITCHENAID MIXER EVER!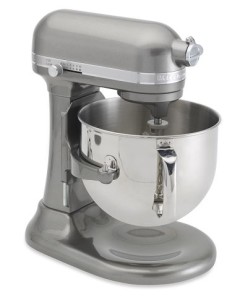 ALL YOU HAVE TO DO TO GET AN ENTRY TO WIN IS DO ALL OF THE FOLLOWING!

COMMENT BY TELLING ME WHAT WOULD BE THE FIRST THING YOU WOULD MAKE WITH THE NEW 7 QT KITCHENAID MIXER IF YOU WON?
FOLLOW ME ON FACEBOOK
FOLLOW ME  ON TWITTER
**DRAWING WILL TAKE PLACE ON NOVEMBER 1ST, 2011. DRAWING WILL TAKE PLACE BY USING RANDOM.ORG AN INDEPENDENT DRAWING THAT IS A COMPUTER GENERATED PROGRAM!
Disclosure: Thanks to Kitchen Aid for providing this awesome mixer for this giveaway.  I was not compensated in any way for this post and all opinions, as always, are my own.