39,520 women are expected to die from breast cancer in the U.S. during 2011
Breast cancer is the second leading cause of cancer death in women (after lung cancer)
In the United States, a women is diagnosed with breast cancer, on average, every 2.5 minutes
Over 75% of women diagnosed with breast cancer are age 50 or older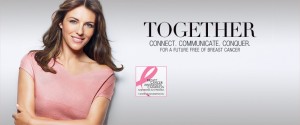 Pink Ribbon Fun Fact
Estee Lauder companies invented the pink ribbon campaign in 1992
1993-The Breast Cancer Research Foundation was founded  by Evelyn Lauder in order to provide funding for groundbreaking medical research. Since its inception, BCRF has raised more than $280 million to support advanced and promising breast cancer research that will help lead to prevention and a cure in our lifetime.
In October 2010 Estee Lauder gave over 28.5 million to scientists working to end the disease.
Check out Estee Lauder's fun Pink inspired collection! I particularly liked this years
Jeweled Pink Ribbon Pin
. Estee Lauder knows that breast cancer doesn't just affect women. That's why this year, a blue stone has been added to their collector's pin to represent the 1% of men who are also affected by this deadly disease.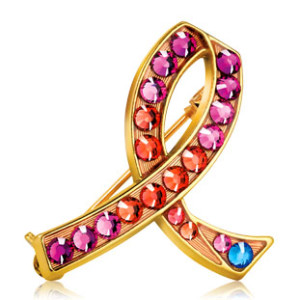 I am happy to say that we have come a long way in my lifetime in the fight against Breast Cancer.
It was not that long ago when people spoke in hushed tones about breast cancer. It almost seemed like a badge of shame for survivors. It's unfortunate and quite sad that at that time someone could not be joyful and shout it from the rooftops that they had fought breast cancer and won!  Even my own family has carried a secret that was only recently shared with my sister.  Our paternal great grandmother had a double mastectomy in the 1950′s after a breast cancer diagnosis.
I am 40 and never knew I had this family medical history.  Never talked about means never knowing and that can be the difference when it comes to making informed medical decisions about your own health!
Thankfully, things have definitely changed! In the last 15 years, we have taken this secret society of survivors and embraced them! Stores around the country boldly display and sell clothing, jewelry, shoes, home accessories, kitchen gear and even mixers emblazoned with the pink ribbon. Celebrating and encouraging women to take care of themselves by getting a mammogram!

I am thrilled to say
Dillard's
department store has led the charge. Just step inside one of their department stores and you will amazed at the selection of pink ribbon items to choose from. It is everywhere! There is no hiding from their love of helping women lead healthier, happier lives! In fact, the Norman, Oklahoma store will be hosting on-site mammograms by the
Oklahoma Breast Care Center
October 21 from 1:30 to 5:00 pm. No more waiting for the doctor to write your referral or hassling with pesky insurance companies. Go to Dillard's and get squished in the Oklahoma Breast Care Center's Convenient Mobile Screening Bus! Call 405-755-2273 Ext 110 to make your reservation today!   After all, we can't take care of everyone else if we don't first take care of ourselves!
Some of my favorite pink ribbon items at Dillard's were the following: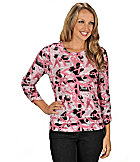 I also am crazy about the new Raspberry Pink Kitchen Aid! My kitchen cannot handle another Kitchen Aid (I have 3). So, if you are wanting to pickup a perfect gift for a cook and help donate to Breast Cancer…Please do consider buying one from Dillards!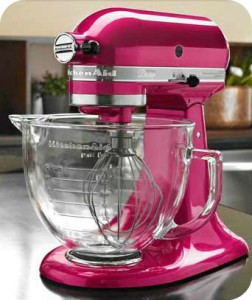 As a tribute and celebration for Saturday's big Race for the Cure I am cooking all things pink that promotes healthy breasts!  I like to think of it as a Pink Power Party!  I plan to invite my girlfriend's over Friday night, turn on a great chick flick and enjoy a super dinner together.  I can't think of a better boost to Saturday morning's events!
Grilled Salmon with Gnocci Vodka Cream Sauce
2 pounds salmon filet
olive oil
sea salt
cracked pepper
4 tablespoon salted butter
3 shallots, sliced thin
3 roasted garlic cloves
1 jar bottled marinara sauce
1/2 cup whipping cream
1/4 cup vodka
16 ounces gnocchi, prepared according to packaging
Heat grill pan till it is smoking hot. Brush salmon filets with olive oil sprinkling with sea salt and cracked pepper. Place salmon skin side up in grill pan. Cook for 4-5 minutes then flipping and cooking an additional 4-5 minutes. Remove from heat and cover.
In a large saucepan add olive oil and butter. Sauté shallots and roasted garlic till tender and then add gnocchi. Toss with butter and allow to warm through.
Using a large stock pot combine marinara sauce and vodka. Allow to simmer and then lower heat and add whipping cream. Stir to combine.
To serve: Place sauted gnocci on place and ladle on creamy vodka sauce and top with a salmon filet. Sprinkle with italian parsley and Parmesan.
Number of servings (yield): 4
Pink Champagne Cupcakes
(Compliments of Duncan Hines.com)
Ingredients
1 box Betty Crocker® SuperMoist® white cake mix
1 1/4 cups champagne
1/3 cup vegetable oil
3 egg whites
4 to 5 drops red food color
Champagne Frosting
1/2 cup butter or margarine, softened
4 cups powdered sugar
1/4 cup champagne
1 teaspoon vanilla
4 to 5 drops red food color
Heat oven to 350°F (325°F for dark or nonstick pan). Place paper baking cup in each of 24 regular-size muffin cups.
In large bowl, mix dry cake mix and champagne. Add oil, egg whites and food color. Beat with electric mixer on medium speed 2 minutes. Divide batter evenly among muffin cups.
Bake 17 to 22 minutes or until toothpick inserted in center comes out clean. Cool 10 minutes; remove from pan to cooling rack. Cool completely, about 30 minutes.
In medium bowl, beat frosting ingredients with electric mixer on medium speed until smooth. Frost cupcakes. Sprinkle with garnishes. Store loosely covered.
Today's Giveaway
All about the Pink!
Estee Lauder has been the leader in providing research to find a cure for Breast Cancer!
Today they are providing me with 3 fabulous gift bags to giveaway !
Products range from their incredible Perfectionist CP+ Wrinkle Lifting Cream with Pink Ribbon Key Chain, Double Wear Collection (MY FAVORITE MAKEUP AND WHAT I WEAR. LASTS 12 HOURS…PERFECT FOR MOM's, Moisturizers and Pink Lip Gloss!
How to Enter:
*Leave me a comment telling me what you do for yourself to make sure you stay healthy?
*Follow me on Facebook
*Follow me on Twitter
Simply leave me a comment for each of the following to be entered to win!
Drawing will take place on: Sunday, October 23, 2011. Drawing will be conducted by using Random.org.