Maybe I am jumping the gun a little bit…But I am so happy that it is OFFICIALLY SPRING! My sweet daughter has reminded me that this means that I need to dust off the picnic basket and get it ready for an outing. Right now the family and I are in Florida on Spring Break so the weather is great for a picnic. I have 2 easy take along dishes.
Anytime we go on a picnic I am always careful to prepare things that do not need tons of refrigeration. So, when making a slaw I like to go with a non mayo based recipe. My son is a HUGE fan of the Herman's Slaw that they serve at Louie's. He cannot get enough of the stuff. So I have made it a personal project to figure this recipe out….So here is my version of this Oklahoma classic vinegar based slaw!
Ingredients
1 head cabbage, thinly sliced
2 yellow onions, thinly sliced (sweet is best)
1/2 cup plus 2 tablespoons sugar
1 cup cider vinegar
1 teaspoon dry mustard
2 teaspoons salt
1 teaspoon celery seed
1 clove garlic, minced
2/3 cup vegetable or canola oil
2 bottles of sliced pimentos
Instructions
Thinly slice cabbage & onions. Cover with 1/2 cup of sugar. Toss together and set aside for about one hour. Boil vinegar, 2 Tbsp sugar, mustard, salt, and celery seed; pour over cabbage while hot. Add grated diced pimientos. Add garlic & salad oil. Let set 24 hours; serve cold. If it is too tart add more sugar to taste. Refrigerate for in an airtight plastic container. This keep for up to a week in the refrigerator.
http://www.fatandsassymama.com/2012/03/picnic-perfect/
After a great main course every great picnic needs dessert! Here is my solution to all of the fabulous berries. How about a trifle. Actually I became an expert at trifles. This is because I am horrible at cooking pound cakes. Mine fall. They are not moist. In the past that used to make me super upset…but that was before I had found the glory of the trifle! So, if you are pound cake challenged….Here is a dessert to your rescue!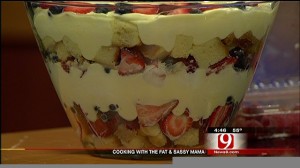 Strawberry Vanilla Trifle
Ingredients
2 quarts strawberries, trimmed and thick sliced
1 quart blueberries
1 quart raspberries
1 pound cake, sliced and cubed
1 package instant vanilla pudding, prepared
2 cups whipping cream, whipped
1 container of Philly Indulgence white chocolate (it is in the cream cheese section of grocery)
Instructions
Combine prepared pudding and white chocolate cream cheese in bowl. Mix with an electric hand mixer just till combined. Fold in whipping cream.
In a large glass bowl (pretty) or other bowl place cover bottom with 1/3 of cubed pound cake, then 1/3 of berries, top with 1/3 of pudding/cream mixture. Continue to top and then end with berries! Refrigerate till ready to serve.
http://www.fatandsassymama.com/2012/03/picnic-perfect/