Pin It
This time every year I get fired up for all of the fresh produce that will be coming to the markets! To me there is no better cuisine than Italian that highlights freshness. Maybe it is all of the reds, greens and yellows that pop. But I love the simplicity of flavors in Italian food! Here is a recipe that I have made for years that is a great fake out when you are trying to bring a little bit of freshness to your table.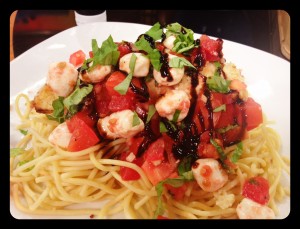 Ingredients
4 boneless skinless chicken breast halves
2 eggs, beaten
1/4 cup grated Parmesan cheese
1 cup Panko bread crumbs
1 tablespoon butter, melted
2 large tomatoes, seeded and chopped
3 tablespoons minced fresh basil
2 garlic cloves, minced
1/2 cup small cubed fresh mozzerella
1 tablespoon olive oil
1/2 teaspoon salt
1/4 teaspoon pepper
4 tablespoon Balsamic glaze
Instructions
Place Panko/parmesan and eggs in separate shallow bowls. Dip chicken in egg, then in Panko mixture; place in a greased 13-in. x 9-in. baking dish. Drizzle butter over the top. Loosely cover baking dish with foil. Bake at 375° for 20 minutes. Uncover; bake 5-10 minutes or until crisp. In a small bowl, combine the remaining ingredients. Spoon over the chicken. Return to the oven for 3-5 minutes or until tomato mixture is heated through. Remove from heat and drizzle balsamic glaze over the top! Serve with steamed broccoli and angel hair pasta!
http://www.fatandsassymama.com/2012/03/viva-italiano/
Now that you have had all of the freshness in one plate it is time for dessert. Cannoli has always been one of my favorites when I am out eating. I used to think they were really complicated till I started experimenting with flavors and textures. I am not a huge fan of a ricotta only cannoli. The texture kind of bugs me so I have found the perfect compromise. The new Philly Indulgence (basically chocolate cream cheese) is my go to when making cannoli. You can use the white chocolate, dark chocolate or the milk chocolate when making my recipe. This one is for Deep Dark Chocolate Cannoli, however I made a killer version using the white chocolate Philly Indulgence and adding raspberry liquor in lieu of the vanilla. Oye it was divine! Here is my super simple cannoli recipe. Feel free to experiment….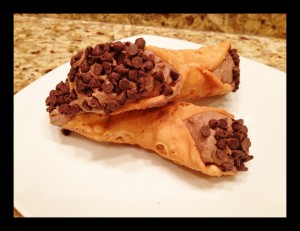 Ingredients
1 package of pre-made cannoli shells
1 cup ricotta cheese
1 container of Philly Indulgence-dark chocolate
1 1/2 cups whipped cream
1 teaspoon vanilla or Kahlua
3/4 cup mini semi sweet chocolate chips
Instructions
Prepare whipped cream as normal. In a medium sized bowl, combine the container of Philly Indulgence with ricotta cheese with an electric mixer. Fold in whipping cream and add in 1/2 cup mini chocolate chips. Save 1/4 cup of chocolate chips in a bowl for garnish. Place filling into a Ziploc bag. Seal and snip the corner. Pipe into cannoli shells. Dip each end in leftover mini chocolate chips and chill till ready to serve.
http://www.fatandsassymama.com/2012/03/viva-italiano/