This morning after taking the kiddos to school I headed to my local Farmers Market. I currently have the Sweet and Sassy Trailer (Hot Mini Donuts) there and it was time to go check in. Once seeing that the trailer was going good I headed inside the FM. WOW!! The produce looked incredible!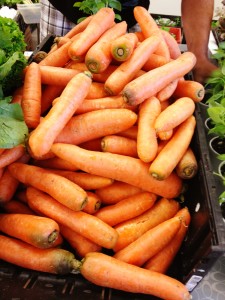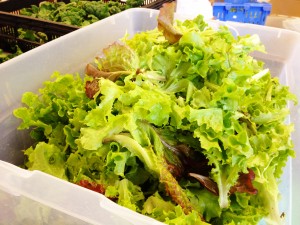 After seeing all of the incredible produce I decided that soup would be perfect to highlight the veggies I found to be available to me this morning. First one that came to my mind is my kiddos favorite: Mermaid Soup with a Cheesy Island. I made this up years ago when I was craving Pasta Fagioli. The kids made a yucky face so then and there I renamed it to Mermaid Soup, because of the little shell pasta and the fact that I told Caytie she needed to eat this because any mermaid worth her tail power ate this soup. (She was in a mermaid phase.)  She ate it and the rest is history! I hope you enjoy this hearty vegetable filled soup!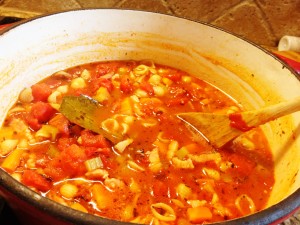 Mermaid Soup with a Cheesy Island
Ingredients
4 slices uncooked thick sliced applewood smoked bacon, chopped
2 sprigs rosemary, left whole
1 teaspoon dried thyme
1 dried Bay leaf
1 large onion, finely chopped
3 carrots, finely chopped
2 ribs celery, finely chopped
2 tablespoons garlic, chopped
Salt and pepper
2 (15 oz.) cans cannellini beans
[2] can[s] fire roasted tomatoes
1 quart chicken stock, low salt
1 1/2 c. small pasta shells
Grated Parmigiano-Reggiano
Baguette bead, cut into slices
sliced provolone cheese
Instructions
Heat a large stockpot over medium heat and add oil and bacon. Brown bacon and add herbs, bay leaf, carrot, onion, celery, garlic, salt and pepper to taste. Add beans, fire-roasted tomatoes, water, and stock. Heat on high until soup begins to boil. Add in small pasta shells. Reduce heat to medium and cook until shells are al dente. Remove the bay leaves. To serve, spoon into bowls and top with Parmigiano-Reggiano cheese.
To make cheesy toast: cut baguette into slices and top with sliced provolone. Sprinkle with italian seasoning and place under broiler till melted. Float on the top of the soup to simulate an island!
http://www.fatandsassymama.com/2012/04/spring-produce/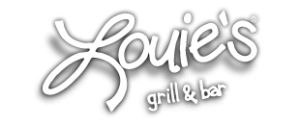 Did you know that Louie's Grill and Bar serves some of the best soup around? I was shocked the last couple of times I stopped in and tried the soup. It was out of this world! In fact, my last trip brought me to this little gem- Tomato Basil. None of that usual sweet syrupy canned junk but the real deal. I could taste the difference and I know you will be able too. Here is my take off on their creamy tomato basil soup I had at Louie's. In fact, I am headed back today to enjoy a warm Spring day on their patio with a little soup and salad!
Ingredients
1 onion, chopped
2 cloves garlic, chopped fine
Olive oil
1 can tomato sauce
1 large can crushed tomatoes
2 cups chicken stock
1 T. dried italian seasoning blend
1/2 tsp. thyme
2 T. brown sugar
1 tsp. pepper
Salt to taste
2 c. half-and-half
Parmesan cheese
Fresh basil, cut into strips
Instructions
In a 2-quart stockpot over medium heat, cook onion and garlic in olive oil until onion is soft. Be careful not to burn the garlic! Add in the tomato sauce, crushed tomatoes, chicken stock, italian seasoning, thyme, salt, pepper, and brown sugar. Bring soup to a simmer.
Whisk in half-and-half. Heat through, being very careful not to boil the soup. Boiling will cause milk to separate and make for a lumpy soup.
Serve warm and garnish with freshly grated Parmesan and fresh basil.
http://www.fatandsassymama.com/2012/04/spring-produce/