The weeks just seem to fly by when the kids are in school. Especially Spring. I find myself chasing my tail a lot! Running from this to that and back again. So, dinner can be a sometimes on the FLY. But, by Wednesday I am sick of running and want some comfort food. Last night I made my Chicken Piccata. It is an easy recipe that I have been making since my days in college. Simple yet elegant and cheap to make!
Ingredients
4 skinless, boneless chicken breast halves
smoky paprika
sea salt and pepper
1 cup all-purpose flour
4 tablespoons olive oil
2 tablespoon capers, drained
1/2 cup white wine
Juice of 1 lemon
1/4 cup water
1/2 stick cold Kerrygold garlic and herb butter, cut in 1/4-inch slices
• 2 tablespoons fresh Italian parsley, chopped
Instructions
Place chicken breasts inside a gallon sized Ziploc and pound till about 1/2 inch thickness. Season with salt, pepper and cayenne. Lightly dredge in flour. Heat olive oil in a skillet over medium-high heat. Place chicken in the pan, reduce heat to medium, and cook until browned and cooked through, about 5 minutes per side; set aside.
Cook capers in pan, until warmed though. Pour white wine into skillet. Scraping the bottom to remove any brown bits. Cook until reduced by half, about 2 minutes.
Stir lemon juice, water, and butter into the reduced wine mixture; cook and stir to form a thick sauce. Reduce heat to low and stir parsley through the sauce. Add chicken breasts to the pan and cook until heated. Serve with sauce spooned over the top on a bed of linguine.
http://www.fatandsassymama.com/2012/04/weekday-comfort-foods/
No after a superb meal the night before…how about fixing those kiddos some homemade toaster pastries. My husband describes my toaster pastries as what would happen if a croissant and pop tart had a baby. They are simple and delicious.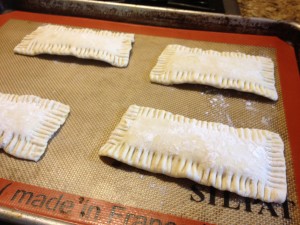 Homemade Toaster Pastries
Ingredients
3/4 cup all fruit jam (your choice)
1 tablespoon cornstarch
1 tablespoon water
1 package puff pastry, thawed
1 egg, beaten
4 ounces cream cheese, flavored
1 cup powdered sugar
1-2 tablespoon maple syrup
1 teaspoon milk
Instructions
Preheat oven to 425 degrees. In a small stockpot over medium heat pour in fruit jam. In small bowl mix together the cornstarch and water. Add to jam and heat till thickened. Remove from heat and allow to cool. Place parchment paper on counter and then unroll puff pastry. Cut 1 sheet into 4 equal rectangles. Place a dollop of the cream cheese on the upper half of each puff pastry rectangle. Spreading evenly to within 1/2 inch of each edge. Do the same with the jam. Brush beaten egg around the edges and fold over. Crimp to seal edges. Place on a parchment lined baking sheet and bake for 8-10 minutes or until golden brown. Remove from oven and cool.
To make glaze: Mix together the powdered sugar, maple syrup and milk till smooth. Drizzle toaster pastry with glaze. Serve!
http://www.fatandsassymama.com/2012/04/weekday-comfort-foods/