This summer I decided I was going to use the wonderful produce from the Farmer's Market to make some jam, relishes, salsas and even some stewed tomatoes. That way I can enjoy summer in the cold months coming up this year. Luckily, I used to sit and watch my Grandma can so when I have questions I give her a ringy dingy. Her one bit of advice on jam was to use Sure-Jell She said that is what she has used for years and what works. So, I decided when my 80+ Grandma tells me to do something I better take her for her word!
Canning to many seems arduous and even daunting. I promise you will love this once you get started. It is a ton of fun and the kids love to help. Best part is that come December and you are freezing your tookis off, you can smile from ear to ear knowing you are spreading on some of YOUR HOMEMADE JAM on that toast! Not to mention once you tell your neighbors about what you have done they will want some of the jam as well!
So, to inspire my readers to give this a whirl, I am doing a GIVEAWAY!!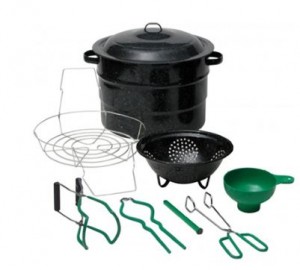 It includes:
o Granite-Ware 9PC 21.5 Quart Canner Kit
o Bormioli Rocco Quattro Stagioni 8-1/2-Ounce 4-Piece Canning Jar Set
o Canning Tips and Tricks from SURE-JELL and Kraft Foods
This is valued over $70!!!
All you have to do is comment on this post and tell me: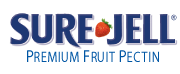 What are you wanting to make this summer using Sure-Jell?
Get a BONUS entry for "Pinning" this post to Pinterest and using #YesIJam in your description! Please let me know you pinned so you get extra credit!
Comment before Sunday, June 17, 2012 at 11:59pm for a a chance to win!
Mango Peach and Lavender Jam
3 cups peaches, peeled and sliced
1 cup mangoes, chopped
2 tablespoons candied ginger, chopped
2 tablespoon fresh lavender chopped
2 tablespoon lemon juice
1/4 cup water
1 package Sure-Jell pectin
5 1/2 cups sugar
1/2 teaspoon butter
Prepare canning jars, rims and lids by placing them alone in your dishwasher and washing on high heat. Remove from dishwasher. Place a large stockpot filled with water on the stovetop. Bring to a rolling boil.
Place 1/4 cup of water in a coffee mug and add in lavender leaves. Place plastic wrap over the top and cook in the microwave for 3 minutes. Allow to sit for 10 minutes. Drain tea through a fine strainer. Discard leaves and set tea aside.
In another large stockpot, place peaches, mangoes, ginger, and lavender tea. Sprinkle with Sure Gel and allow to come to a rolling boil. That means bubbling continuously with it never stopping. Add in sugar and bring to a boil for 1 minute. You will know your jam is ready when you can run your finger along the back of a wooden spoon and you have a clear track. Add butter. Skim off any foam. Remove from heat and pour carefully into prepared jars. Make sure and wipe the rim with a clean damp cloth. Add lid and rim. Place jars carefully into the boiling water bath. Allow to "process" for 15 minutes. Remove from boiling water and cool on counter. You will hear random popping sounds and that means the jars are becoming airtight and fully sealed. Once cool. Tighten lids and store in a cool dark place till you are ready to use!
Paula's Vidalia Chow Chow
4 large sweet Vidalia onions, skins removed and finely chopped
2 cups green cabbage, finely shredded (approximately 1/4 head)
1/4 cup kosher salt
4 1/2 cups water, divided
2 red and yellow bell peppers, chopped
1/2 cup light brown sugar, packed
2 cups apple cider vinegar
1 tablespoon dried mustard powder
3/4 teaspoon turmeric
1/4 cup all purpose flour
1 teaspoon mustard seed
2 teaspoons celery seed
3 pint canning jars and lids, sterilized
In an extra large glass mixing bowl, combine chopped onions and shredded cabbage. Dissolve salt into 4 cups of water and pour over onions and cabbage. Allow to soak overnight.
Drain onions and cabbage and set aside.
In a large saucepan add apple cider vinegar and light brown sugar. Stir until brown sugar has dissolved. Add dry mustard, turmeric and remaining 1/2 cup water. Stir together.
Add flour and stir until a thick paste is formed. Whisk in celery seed and mustard seed.
Bring the entire mixture to a boil over medium high heat, making sure to stir constantly to prevent sticking. Once thickened, add the drained cabbage and red bell pepper.
Continue to boil for an additional 5 minutes.
Sterilize jars and lids directly before using for 10 minutes in simmering water or in the dishwasher. Remove one at a time when ready to fill.
While onion relish mixture is still hot, ladle into the hot sterilized jars, filling to within 1/4 inch of the top. Wipe rims with a clean damp cloth and seal jars with lids and rings.
Process in a boiling water bath (making sure water level is 1 inch over the top of the jars) for 15 minutes. Remove from water bath and allow to cool on the counter.