Congratulations Lisa!!!
You are the winner of the Chips Ahoy Summer Joy Pack!
About this time every year the kids had mowed through all of the cookies in the pantry and it is time to restock! Best part is that about this time there are NEW cookies coming out! This year we were given the new Gooey Caramel CHIPS AHOY! and Chewy CHIPS AHOY! with Reese's Peanut Butter Cups to try. Now, you see I was raised on Chips Ahoy. In fact, we NEVER would leave the house to go on the boat with out a bologna sandwich and our trusty bag of Chips Ahoy! This year I have to say these Gooey Caramel ones are yummy. The kids eat them like crazy. I like to microwave mine for 10 seconds….warm and gooey. The Chewy Chips Ahoy with Reese's Peanut Butter Cups are just plain sinful! Imagine a Chips Ahoy and a Reese's Peanut Butter Cup had a baby…that would be these chewy yummy cookies! The perfect texture to crumble and mix into ice cream! The best thing I have done so far is make PB Cookie Shakes! Simply delicious and the perfect way to cool yourself from the inside out!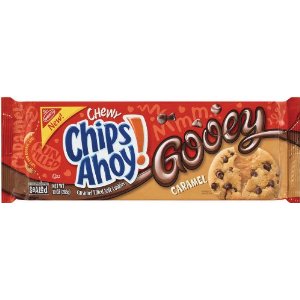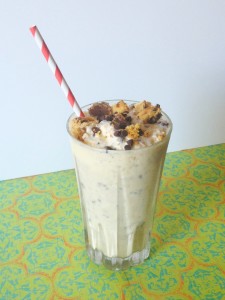 /581530_10151033144456755_591286320_n.jpg">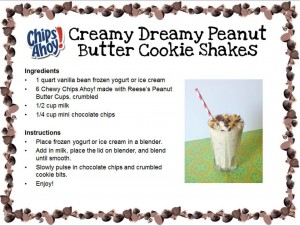 In honor of this being one HOT Summer I will be having a GIVEAWAY! It is called the Chips Ahoy Summer Joy Pack. It has everything a family needs to have a super day enjoying fun in the sun and in the water! Best part is the Chips Ahoy cookies!
Beach Tote(for Mom): to make carrying your summer essentials to park or beach simple
A Splash Bomb 7- Pcs Pool Party Pack to allow for some water fun in-between snacks
A Stripe Beach Towel to use at the local beach or your backyard pool
Banzai Wigglin Water Sprinkler for some good backyard fun
2 packs of the New CHIPS AHOY! Chewy Gooey CHIPS AHOY! Caramel
2 packs of the New Chewy CHIPS AHOY! made with REESE'S PEANUT BUTTER CUPS™
Here is how you can ENTER!
Comment on this post and tell me your favorite summer memory as a kid!
For an extra entry:
Tell me what you think about the new flavors of Chips Ahoy this summer by giving them a shout out on Twitter! Use #CHIPSAHOYJoy
Drawing will take place on Tuesday, July 10, 2012 at midnight. I will use Random.org as the means to determine the winner.
Kraft Foods is providing the prizes for this program at no cost to me and has provided me with a gift of equal value for review.  This program is not administered or sponsored by Kraft Foods or its affiliates, but solely by the Fat and Sassy Mama.