Summertime foods for me require a few things: simplicity and freshness. Sounds easy. However many people over think cooking in the summertime. Basically if you are using more than 5 ingredients then you are just spinning your wheels.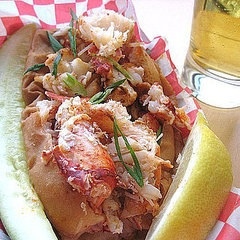 Lobster Rolls
8 ounces cooked lobster meat, torn into bite-size pieces
3 tablespoons mayonnaise
1/2 lemon, squeezed
1 tablespoon butter, room temperature
2 hot dog rolls
1/2 head of butter lettuce, thinly sliced
Using a medium sized bowl, combine the lobster, mayonnaise, and lemon juice. Toss together. Place on buttered toasted split hot dog buns.