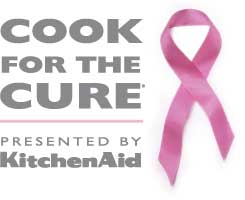 In the last couple of years, I have watched a dear friend fight breast cancer with style, class and dignity. Now, i make it a point to support any efforts to raise money to help bring awareness and early detection to all women! This is not just a woman's issue but an entire family issue! So, as a way I encourage you to host a party July 20-29! It is callled the KitchenAid's Cook for the Cure program, and more specifically 1,000 Cooks for the Cure!
The details are simple! Host a party (of any kind) at your home anytime from July 20-July 29. It can be as simple as an office potluck, girlfriends luncheon, or as fancy as you want! Best part is that instead of bringing a housewarming gift, food or wine, have your guests bring a small donation for Susan G. Komen for the Cure to help in the fight against breast cancer.
Any party host that raises $50 or more will receive a free plate designed by Jacques Pepin in the mail, and anyone who hosts a party and registers it with the KitchenAid website will automatically be entered to receive the ultimate "thank you" from Jacques Pepin himself! This sounds like a lot of incentive to get your pink on and help raise money for Susan G. Komen!
Please let me know if you have a party and share some pics with me!! I will also be having a giveaway for those who participate!