There are a few things in this world that I know for sure: cleaning, laundry and cooking. All of these seem mundane but each our vital to my families success. In fact, they are skills passed down from mother to child since the beginning of "Momdom". I like to think that there are some things that my kids will look to when they no longer have me but need a little Mom. Recipes are a beautiful way to share the past with the present.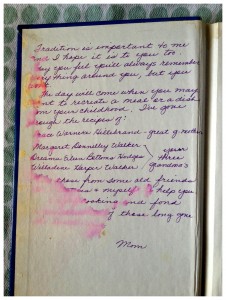 My own Mom did this for me many years ago. She did not spend a lot of money. Just a simple journal with a message on the inside reminding me to embrace my past. In her own handwriting she wrote down the recipes of her childhood as well as ones she knew we would want. At the time, 12/25/1993, I looked at the book and said thanks. I had no idea it would become one of my most prized possessions now. Since 1993, I have written my own cryptic recipes inside the book. So, now it is the holy recipe book! It is the one thing I would run into a burning building for….I have told my own children that when I am gone they are to go get the book when they are looking for recipes.  Bless its little bound heart. It is covered with spills, smudges and even missing instructions. But, those are the best recipes!
Today, I am sharing family classic sweets. This is by far my most requested treat at my house. My husband and son ask for this whenever I say who would like a treat? Luckily, its ingredients are things you have in the pantry and just take minutes to make. Best part is you never have to fire up the oven!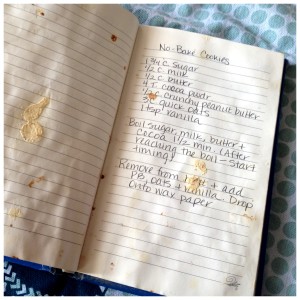 [amd-zlrecipe-recipe:23]
Another childhood favorite of mine is the Wendy Frosty. I remember when the Wendy's opened in Bartlesville as a kid. It made yummy burgers but the most amazing thing was these frozen treats that came out of a machine. It was magical. From that day forward I became a lover of the frosty. Now I have my own version of the frosty that I can make at home. No need to get in the drive through and best part is that I control the quality of the ingredients. My secret is using Braum's chocolate milk. It tastes like melted ice cream. Super chocolatey (yes that is a word for me..) and rich. Perfect when making my own Mama Frosty.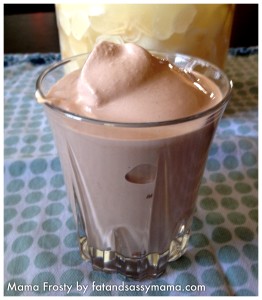 [amd-zlrecipe-recipe:25]