If you have been to your local grocer then you have seen the words HATCH everywhere. My daughter thought she there were chicks everywhere and I had to explain that Hatch is in reference to chili's. And no they do not hatch! They come from Hatch, NM.
These chili's are incredible. I am very open that I am one of the biggest spice weenies on the planet. So I have avoided chili's for years. My Mom even made chili rellanos that people raved about. But not this girl. I steered clear. That all changed once I had some Hatch chili rellanos in Texas. I was in love. Mild chili with a crunchy coating and ooey gooey jack cheese! Hello delicious. So, while I was there I decided to pickup some of these mild chili's and get to experimenting.
I went into my laboratory (ie my kitchen) and used my tried and true recipe bible made by mom and followed her rellanos recipe. Only difference is that I dipped mine in panko for the crunchy coating! They came out perfect!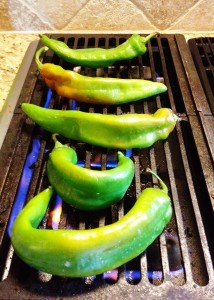 Hatch Chili Rellanos
8 large roasted and peeled green chilies
4 eggs separated, into yolks and whites
1 teaspoon salt
2 teaspoons corn starch
1 teaspoon garlic salt
1 pound monterey jack cheese, cut into chili length cubes
½ cup flour
1/2 cup panko
¾ cups cooking oil
chive and onion cream cheese, softened
juice of one lime
1/4 cup of sour cream
Cut slit in chilies and fill with cheese. Roll chile in flour until coated, set aside. Beat egg whites with garlic salt, salt and corn starch until stiff. Beat egg yolks with fork until well blended and fold into egg whites. Dip chile one at a time into egg mixture and sprinkle with Panko crumbs. Fry in skillet in hot oil until browned, turning to cook both sides. Drain on paper towels. Serve with lime creme sauce.
My next favorite in the fall is Tortilla Soup. So many people in the midwest do this thing where they dump canned veggies and packaged flavorings. No need to use packaged stuff when you have your own big flavor in a Hatch chili. My hubby never likes the usual Tortilla Soup but when I made this version he ate 3 bowls!!! So yippee for me!
Roasted Chili Tortilla Soup
1 onion, chopped
2 tablespoon garlic, minced
1 green pepper
1 red pepper
1 tablespoon olive oil
3 teaspoon taco seasoning
1 (28 ounce) can crushed tomatoes
1 large can of chicken stock
2 cups water
1 cup whole corn kernels, frozen
1 cup white hominy
3 chopped Hatch chile peppers, unseeded
1 can Great Northern Beans, rinsed and drained
1/4 cup chopped fresh cilantro
1 rotisserie chicken, shredded
3 tablespoon corn masa
sliced avocado
shredded Monterey Jack cheese
sour cream
In a medium stock pot, heat oil over medium heat. Saute onion, peppers and garlic in oil until soft. Stir in taco seasoning, stock, and water. Bring to a boil, and simmer for 5 to 10 minutes. Stir in corn, hominy, Hatch chiles, beans, cilantro, and chicken. Simmer.
Top with tortilla chips, avocado and Jack cheese