Through the years I have taken it upon myself to help people understand that meatloaf does not have to mean dried loaf of meat from your past. You might say it has had a bit of a renaissance. I am always amazed at the wide range of looks, comments and even quick responses about MEATLOAF. Bless this dishes heart. It has been put in the corner so long that many people never seem to want to give it a second chance. Well, I used to be one of those haters. In fact, my mom was one of the worst offenders of all times. Her meat loaf was so dry you could use it as a door stop. I do not know what she put in that thing but it was dense! So, I grew up trying to find anything else to to do than be there for meatloaf night!
Then things changed. I went to college, met a boy, and he loved meatloaf. Not good…..So, I had to get over my fears of the loaf and try to figure out how to make it so I would eat it. Let's face it, this dish is cheap to make and if done right it is delicious! I went to my kitchen laboratory and went to work. So through years of taste testing and trying to perfect the best loaf ever…I have come pretty close. In fact, now my kids ask for it all the time! Their idea of the perfect weeknight meal is Mama's Meatloaf, Baked Garlic Cheese Grits, Biscuits with Honey butter, green beans and a snickerdoodle for dessert! So here is my tried and true recipes!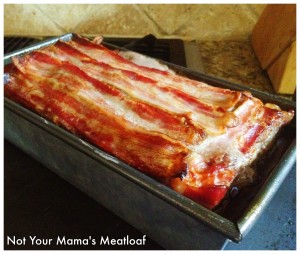 Mama's Meatloaf
1 1/4 pounds ground chuck
1 1/4 pounds ground pork
1 onion, chopped
3 celery ribs, chopped
1 green pepper, chopped
1 cup french bread cubes, torn
1/2 cup milk
1 egg
1 teaspoon salt
1 teaspoon pepper
1 tablespoon A1 sauce
1/2 cup ketchup
1/4 cup brown sugar
1/2 pound center cut bacon
Preheat oven to 375 degrees. Spray a loaf pan with non stick cooking spray.
In a saute pan over medium heat sauté onions, celery and green pepper till tender. Set aside to cool.
Using a small bowl place torn french bread and pour milk over the top. Stir in the A1 sauce, salt and pepper into the milk mixture. Allow this to sit for about 15 minutes and get mushy.
Place ground meat into a large bowl and combine with veggies and bread mixture. Stir in egg until well mixed.
Using loaf pan, sprinkle brown sugar in the bottom. Squirt ketchup over the top to cover. Press meat mixture into pan. Then lay strips of bacon over the top. Set loaf pan on a foil lined baking sheet and place into oven. Allow it to cook for 50 minutes or 1 hour. Allow it to cool 15 minutes before inverting onto a serving plate. Slice and enjoy!
Garlic Cheese Grits
1/4 cup unsalted butter
4 cups chicken stock
1/2 teaspoon salt
1/2 teaspoon minced garlic
1 cup quick grits
1 egg
1/3 cup half and half
1 teaspoon pepper
1 cup grated sharp cheese
1/2 cup grated gruyere
Preheat oven to 350 degrees F. Grease a casserole pan with non stick cooking spray.
Combine 1/2 stick of butter, stock, garlic and salt in a heavy medium saucepan over medium heat. When mixture comes to a gentle bubble, add the grits, stirring until thoroughly combined. Continue to cook the grits until thick.
In medium sized mixing bowl beat together egg, cream and pepper. Carefully stir into cooked grits along with the sharp cheese and gruyere. Pour mixture into casserole pan. Bake about 45 minutes. Remove from oven and serve!