This weekend I went to the farmer's market and I was so happy to see all of the fresh veggies. That got me to thinking that we need to really take advantage of this season. Goodness knows we all bellyache in January that the tomatoes are yucky. Well then eat them today!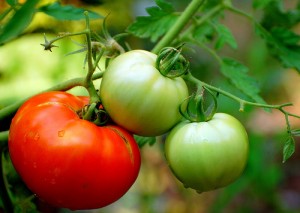 Fresh Tomato Salad with Buttermilk Dill Dressing
4 tomatoes, sliced crosswise
1/2 cup shaved pecorino cheese
1/2 pound thick cut applewood bacon, chopped
1/2 cup buttermilk
1/2 cup mayonnaise
2 tablespoon fresh dill, chopped
2 tablespoon fresh chives, chopped
1/2 teaspoon salt
1/2 teaspoon garlic powder
Set out 4 salad plates and place 2 tablespoons of shaved pecorino cheese in the center of plate. Place sliced and stacked tomato in the middle of cheese savings. Top with dressing and sprinkle with bacon and dill springs.
To make dressing: In a medium sized bowl mix together the buttermilk, mayonnaise, garlic powder, dill, chives and salt. Whisk together.