If you are anything like me then you are in the thick of kid activities. This week I have multiple things to do every night. So, dinner times can be chaotic and takeout is so easy. The only problem is that midway through the week I realize , "What in the heck have we been eating?" To be honest, a lot of garbage. So, instead of getting Chinese takeout why don't I just work ahead a bit and make my own?
My family loves eggrolls and Sweet and Sour Chicken. They would eat this every night if they could. But that can get so expensive when you are feeding a 13 year old growing boy….So, thanks to my friend Kelly Boyd, I now have a super easy recipe that is guaranteed to WOW your family. She was raving about it at church and I have to admit she peaked my interest. So, the next night I got in the kitchen and made this dish. YOWZA!!! It was incredible! I have added a few things but Kelly's recipe is now a MUST DO at the Ross house! And let me tell you that is a HUGE honor!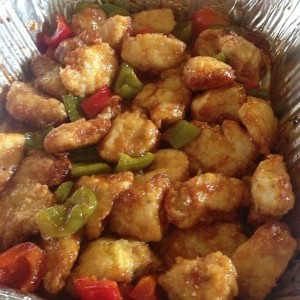 Weeknight Sweet and Sour Chicken
Ingredients
3-4 boneless skinless chicken breasts
salt and pepper
1 cup cornstarch
2 eggs, beaten
1/3 cup canola oil
3/4 cups sugar
4 Tablespoons ketchup
1/2 cup white distilled vinegar
1 Tablespoon soy sauce
1 teaspoon garlic salt
1 red pepper, rough chop
1 green pepper, rough chop
Instructions
Preheat oven to 350 degrees. Rinse chicken, trim off fat and then cut into 1 inch cubes. Season with salt and pepper. Roll chicken into cornstarch and coat. Dip into beaten eggs. Heat oil in large skillet. Cook chicken until browned.
While chicken is cooking mix together the ketchup, sugar, vinegar, soy sauce and garlic salt until well combined. Set aside. Once chicken is done browning place pieces into a 9x13 baking dish. Pour the sauce over the chicken and peppers. Toss to coat. Bake for 15 minutes and then turn chicken and continue cooking for 15 more minutes.
http://www.fatandsassymama.com/2012/09/at-home-takeout/
Here is my kids favorite snack or a great thing to make on game days! Egg rolls! My mom used to make these but thanks to pre-shredded coleslaw packs this recipe is super easy. Best thing is that these can be fried or baked. Depending on your diet this can be ok for you to have! My kids like to help me roll them. Make it a family affair.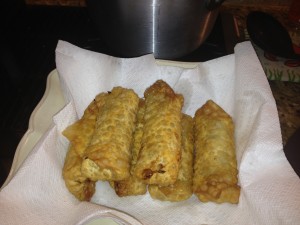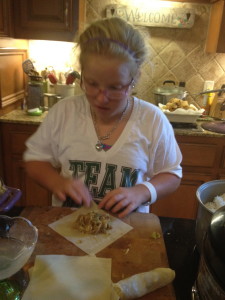 Ingredients
2 packages Egg Roll Wraps (20 count each)
1 lb. ground turkey
2 packages coleslaw mix (cabbage and carrots)
1/2 lb. bean sprouts
1/2 c. green onions, chopped
1/4 c. oyster sauce
1/4 c. soy sauce
1 tablespoon sesame oil
Canola Oil for frying
Non stick spray, if baking
Olive oil, if baking
Instructions
Preheat oil in a stockpot to 325 degrees. While oil is heating brown ground turkey in a large skillet. Once it is browned, add in green onions and cabbage. Toss until cabbage is wilted and then add in the bean sprouts. Add the soy sauce, oyster sauce and sesame oil and toss with vegetables. Remove from heat.
To make egg rolls:
Place one egg roll sheet on a cutting board with one corner facing up (in a diamond shape setting on cutting board.) Place 2 tablespoons of cabbage/meat mixture in the center (running left to right. Dip your finger in a bowl of water and run around the edges. To roll: Lift the bottom corner and fold over meat mixture. Fold in the left and right corners. Roll toward the top and add more water to top corner to seal. Set aside.
Fry each egg roll in oil till golden brown. Remove from oil and drain on sheets of paper towels.
To bake: Preheat oven to 375 degrees. Spray pan with nonstick cooking spray. Brush rolls with olive oil and bake for 15-20 minutes.
http://www.fatandsassymama.com/2012/09/at-home-takeout/