I grew up in the 70′s and my Mon was a master freezer of everything and anything. There was nothing that couldn't be "saved till later." Well I beg to differ. There are just some things that did not ever come back…in fact some of it was just not edible! So, now that I am a Mom I am almost freezer phobic. I have really experimented with what works and what doesn't.
Here are some food freezing tips:
Place the newest food packages in the bottom or near the back of the freezer, then move the older ones so they are next in line for use.
Color code or label packages with different markers to help you identify foods in the freezer.
Post a list of all frozen food (with dates) near the freezer and check off what is used.
Don't Freeze These Foods
• Salad greens and crisp raw vegetables to be used in salads and sandwiches — such as celery, onions, and sweet peppers — will lose their crispness and become limp after freezing.
• Eggs in the shell will expand and crack the shell. Hard cooked egg whites will become tough and rubbery.
• Creamed cottage cheese will change texture, becoming grainy. Freeze only uncreamed or dry-curd cottage cheese.
• Sour cream will separate when frozen and thawed.
• Heavy or whipping cream will not whip high after freezing.
• Potatoes become mushy if frozen raw, and watery and tough if boiled and then frozen.
Here are my "go to" freezable meals. In fact, I make a double batch one for that night's meal and one for the freezer!
Sassy Casserole
1 lb cavatappi or elbow pasta, cooked al dente
1/4 cup sour cream
1 cup cottage cheese
4 oz. cream cheese
1/2 cup onion, chopped fine
1/2 cup Parmesan cheese
1 teaspoon garlic salt
1 cup sliced mushrooms
1/2 red pepper, chopped
1/2 green pepper, chopped
1 jar spaghetti sauce
2 cups Italian cheese blend, shredded
Cook l lb. pasta and place half of the pasta in a 9×13 pan. In a medium sized bowl combine the sour cream, cottage cheese, cream cheese, onion, Parmesan cheese, and garlic salt. Stir to well combine. Spread creamy cheese mixture over the top of the pasta. Top with 1/2 a jar of spaghetti sauce. Sprinkle veggies over the top of the sauce. Pour the other 1/2 of the pasta on top and add the remaining spaghetti sauce. Sprinkle with cheese and bake at 350 degrees for 45 minutes.
**This freezes great! Make double and freeze the extra casserole for a future dinner!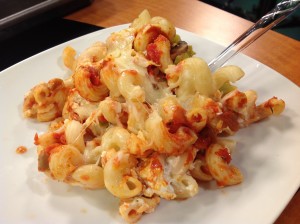 Easy Cheesy Taco Bake
1 lb lean ground beef
1 onion chopped
2 cups fresh salsa
2 tsp. taco seasoning
1/4 cup Italian salad dressing
2 cups frozen white and yellow corn
1 can black beans, rinsed and drained
1 can green chilis, drained
8-12 corn tortillas
3 cups Mexi cheese, shredded
cilantro
lettuce
tomatoes
Preheat oven to 350 degrees. In a large saute pan, brown ground beef and onion. Drain meat and return to pan. Add in the salsa, taco seasoning, Italian dressing, corn, black beans and green chilis. Cook till warmed through. Line a 9×13 pan with corn tortillas. Sprinkle with meat mixture and 1 cup of cheese. Continue to layer to the top of the pan. Ending with cheese on top. Bake for 30-40 minutes. Serve hot and top with fresh cilantro, lettuce and cheese.