I just wanted to wish everyone a very Happy Halloween!! This is by far one of my favorite holidays! It is the one day a year that anyone can be anything they want to be. No limits. Clearly….if you have ever been in the adult section of costumes. Sorry, I digressed. Here at the Ross house we really celebrate! Spiderweb stairs, pumpkins carved out front and even an inflatable creepy arch! We love Halloween!
Now, if you are wondering what to do for dinner…Check out my Mexi Chili Cornbread To Go! You know I am a lover of all things in a Mason Jar. In fact, I have tons here at the house and use them for everything! Mason jars are perfect to use right before we trick or treat. That way my guests have dinner to go! Super simple to make..Especially if you use Schwab's Chili! They do all of the work and the chili is incredible! I promise! No tricks just a yummy treat.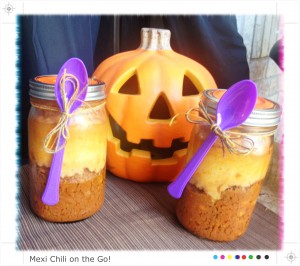 Mexi Chili and Cornbread To Go
Ingredients
2 packages (8-1/2 ounces each) corn bread/muffin mix
1 medium onion, chopped
2 cups (8 ounces) shredded cheddar cheese
1 can (14-3/4 ounces) cream-style corn
1-1/2 cups (12 ounces) buttermilk
4 eggs, beaten
1 can (4 ounces) chopped green chilies
1/3 cup vegetable oil
1 tablespoon finely chopped jalapeno pepper
Schwab's Chili
4 quart sized mason jars
Instructions
Preheat oven to 375 degrees. In a large bowl, combine the cornbread, egg, buttermilk, onion, green peppers, oil and cheese. Mix till it is well combined.
Fill jars 1/2 way with chili. Then using an ice cream scoop put cornbread mix on top of chili till jar is filled 2/3 of the way. Place jars on a baking sheet and put into the oven for 30 minutes.
*This is a great recipe for work lunches too! Just take the lid off and microwave!
http://www.fatandsassymama.com/2012/10/halloween-time/
So here are some treats I love to make. They are super simple and I promise can be made in 30 minutes or less.
Monster Bark
1 pound bittersweet chocolate chips
3 Butterfinger candy bars, chopped into large chunks
3/4 cup toffee pieces
Reeses Mini Peanut Butter Cups, cut in half
1/4 cup honey-roasted peanuts
1/2 package white chocolate chips, melted
1 cup milk chocolate M&M's
Gummy worms
Melt bittersweet chocolate in a double boiler until smooth. Pour onto a parchment lined baking sheet. Smooth out till chocolate is a 1/4 inch thick. Sprinkle with candy, peanuts and worms. Place in freezer for 20 minutes to harden. Remove from freezer and drizzle with melted white chocolate. Return to freezer for 20 minutes. Remove and break into large chunks. Store in an airtight container.
Creepy Cookies
1 package of Halloween double stuffed Oreo's
20 popsicle sticks
white, lime green or purple Wilton Candy Melts
Candied eyes (Hobby Lobby)
Basket weave cake decorating tip
Ziploc bag
Place popsicle sticks inside the ore's. Dip cookies into melted chocolate and place on a parchment lined counter. Quickly add eyes and allow to harden. Fill a gallon sized Ziploc bag with leftover melted chocolate. Snip end at an angle or use a basket weave tip. Drizzle strips over the cookies in a mummy like formation. Allow chocolate to harden. Enjoy!