I love cookbooks. They are the one thing I truly collect. It all started with my Mickey Mouse cookbook over 30 years ago. Now I have hundreds. Much to my husbands displeasure I lug these around with me everywhere. Now, I am trying to be more selective in my purchases. I look for cookbooks that offer me recipes and tips from Holidays to Appetizers and everything in between.
My friends at Taste of Home have written a real gem Taste of Home: Best Loved Recipes! This cookbook is the bible of home cooking! I have made so many delicious recipes that my family and friends love! One of the best things about Taste of Home is that they are so available anywhere. Taste of Home content is available in print; online at Tasteofhome.com; in books; via digital download on iPad, mobile apps and Kindle; and Facebook, Twitter and Pinterest. Obtain a subscription www.TasteofHome.com or on your favorite digital download device.
Here is one of my favorite Halloween recipes!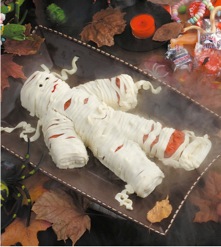 Yummy Mummy Cheese Spread
Excerpted from Taste of Home: Best Loved Recipes: 1485 Favorites from the World's #1 Food & Entertaining Magazine
By Taste of Home
Yield: 1 cheese log
Prep/total time: 30 min.
My annual Halloween bash wouldn't be the same without the now famous Mummy Man. When kids first see Mummy Man, they wonder if he's edible. I assure them, and we hack off a foot or an arm with some crackers.
– Rebecca Eremich, Barberton, Ohio
2 port wine cheese logs (12 ounces each)
1 package (8 ounces) cream cheese, softened
1 tablespoon 2% milk
2 whole peppercorns
1 pimiento strip
Directions
1. Cut the cheese logs into pieces for mummy's head, body, arms and legs; arrange on a serving plate.
2. In small bowl, beat cream cheese and milk. Cut a small hole in the corner of a pastry or plastic bag; insert basket weave tip #47. Pipe rows across the mummy, creating bandages. Add peppercorns for eyes and pimiento strip for mouth. Chill until serving.