CONGRATULATIONS ANGELA MCGUFFEE!!!
YOU HAVE WON THIS SASSY RASPBERRY ICE KITCHENAID STAND MIXER!!!
October is already my favorite month since the trees begin to turn, the weather begins to cool off, but the icing on the cake is that it is Race for the Cure month! I like to call it Think Pink month. October is all about us girls! Our health is the #1 gift we can give ourselves and others! No more avoiding those Dr. appointments. Make October the month when you get your yearly exam and mammogram. I know you hear it all the time but truly early detection of any illness will save your life! So, in honor of this HUGE MONTH I am celebrating with an incredible giveaway!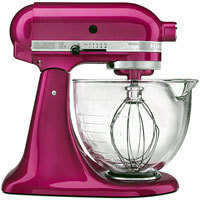 That's right ladies!! It is the KitchenAid Raspberry Ice 5 quart Stand Mixer. I am just giddy that KitchenAid was so generous to give this to me for a giveaway! I have had my Kitchen Aid for over 20 years and it is still running! Just like my own personal body…I take care of it and it takes care of me. (In the form of delicious foods…) I love KitchenAid because they put their money where their mouth is…For each qualifying pink product purchased, KitchenAid will donate up to $50 to the Susan G. Komen Breast Cancer Foundation.
KitchenAid will also donate $50 for every qualifying major appliance purchased during October—National Breast Cancer Awareness Month. So, if you are out and about and buying appliances. Look no further than KitchenAid. They have incredible products and they care about us!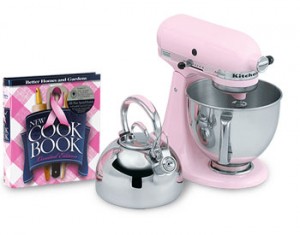 So now you ask…How do I enter to win?
Comment on this post by telling me:
When you will be going in for your mammogram?
Or
Tell me the name of a survivor you will be supporting this month in The Race For The Cure.
I will announce the winner on October 24th at 4:00 pm central standard time. The winner will be selected by using Random.org. Only one entry per person please!
**KitchenAid generously donated this stand mixer to be used as a giveaway on Fat and Sassy Mama.com.