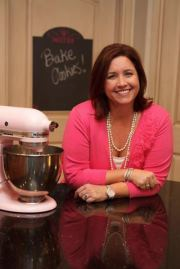 Caryn Ross got her start as a winner of Paula Deen and Kraft Foods Real Women of Philadelphia talent contest and served as a food host for the site for 2 years. Since her win she has exploded in the cooking world appearing recently on Home Made in America with Sunny Anderson She has also appeared on the Rachael Ray Show and cooked live in Rockefeller Center, for Real Simple Magazine. Ross also is a fixture on News9 in Oklahoma City working as their feature food contributor.  She also is the lead food contributor to Slice Magazine and works closely with Braum's as an ambassador. Caryn also has been featured in Everyday with Rachael Ray Magazine as a celebrity cook and was published in the May 2011, August 2011 and October 2011 issue. She was also featured in Taste of Home magazine (August 2011). When Caryn is not on the air, she is helping her readers/viewers make at home meals for their families through her Sassy Recipe Club. She is also busy testing and writing recipes for her upcoming cookbook, Sassy Cooking with Caryn Ross, coming out later in November 2012.
Ross began her career in cooking at an early age. She continued her passion for cooking by working as a baker in her local neighborhood market and catering for friends. Her love of all foods and cultures has allowed Ross to work on recipes covering a vast spectrum of the culinary world.  She loves deconstructing recipes and making them her own. It is Caryn's belief that food is love and the first step to enjoying it is to learn to cook!
In her spare time, Ross enjoys living on her boat in Florida with her husband, Jack and their two children, Jackson and Caytie. She and her family love to travel in their boat discovering new places and experiencing their regional cuisines. Cooking is truly a family affair! When she is not on the boat, Ross loves crafting, knitting, gardening and photography. She also loves to write and empower people to learn to cook through her website, http://sassyrecipeclub.com.
Thank you for visiting my blog and I hope you will stick around and see what adventures await me!
var _gaq = _gaq || []; _gaq.push(['_setAccount', 'UA-17268411-3']); _gaq.push(['_trackPageview']);
(function() { var ga = document.createElement('script'); ga.type = 'text/javascript'; ga.async = true; ga.src = ('https:' == document.location.protocol ? 'https://ssl' : 'http://www') + '.google-analytics.com/ga.js'; var s = document.getElementsByTagName('script')[0]; s.parentNode.insertBefore(ga, s); })();