It is that time of year! School is starting for many and that is so exciting. However, it feels like Christmas in August/September. Kids need backpacks, books, supplies and then lunches. Yep, I said it. The dreaded word. They are the bane of my existence when they were little. I wanted to be the super Mom who packed the kick a$$ lunch for my kiddos. Probably because my Mom packed horrible lunches. Mom was a hippie…no Peter Pan PB at my house. No white bread. No chips. No pudding. The worst lunches ever. So, decided to be super Mom. Well, that is all well and good in theory but quickly that goes out the window about mid October.
Well fear no more! Get your kids involved. If your kids can organize their backpack then they can pack a lunch! It is all about choices. Give them as many choices as possible. I keep a supple of fresh fruits, veggies, snacks and different dippers available each week. I encourage them to make good choices. Have one fun treat but the rest needs to be healthy and balanced.
Here are a few of my recipes!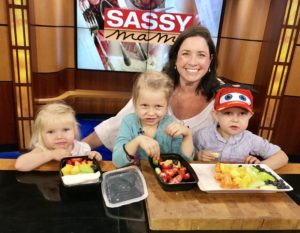 Rainbow Lunchable
1 Sandwich cut into squares
Cut strawberries, cantaloupe, pineapple, green grapes, blueberries
Disposable container
(Be creative and get your kids in the kitchen)
Lunch Box Ideas:
Ramen Veggie Soup
1 Ramen Cooker Bowl (in lunch box aisle)
1 package ramen
1 cup fresh veggies chopped
1 bottle water
Yogurt Fruit Salad
1 salad cup (in lunch box aisle)
1 1/2 cup favorite fruit
1/4 cup granola
1/4 cup greek yogurt
1 teaspoon fresh honey
Place the yogurt in the bottom of the cup and then layer the fruits. Top with granola. Refrigerate till you are ready to eat.