Brunch for many can be daunting. Never fear! If you have a go to egg bake and sticky buns then you will be a brunch rockstar! My friend, Marti Bushore, shared this Green Chili Egg Bake with me when Jackson was just a toddler. It is still my family's favorite brunch bake that I have ever made. What I love about it is that it can be changed up so easily. Add more veggies. Maybe some meat for a heartier group eating….You are the boss of this egg bake and it comes out perfectly every time!
Santa Fe Egg Bake
10 eggs, beaten
1 cup cottage cheese
1/2 cup sour cream
1 teaspoon salt
1/2 teaspoon pepper
3 cups shredded Mexi cheese blend
1 cup green chilies, chopped
1 cup unsalted butter, melted
1/2 cup flour
1 teaspoon baking powder
Optional: cooked bacon, sausage or smoked sausage
Preheat oven to 400 degrees. Spray a 9×13 baking pan with nonstick cooking spray. In a large bowl whisk together the eggs, cottage cheese, sour cream, green chilies, 2 cups cheese blend, melted butter, salt/pepper, flour and baking powder till the flour is thoroughly mixed in. Add any additional mix-ins. Pour the egg mixture into the bottom of the baking pan. Sprinkle with the remaining shredded cheese. Cook the egg bake for 15 minutes. Reduce the heat to 350 degrees and cover the pan with foil and bake for 20-25 minutes or until the egg bake does not wiggle. Cut into squares and serve with your favorite salsa.
These are hands down the easiest sticky buns ever! I make them in bunches and freeze them until I am ready to bake! These are also great to make with those who want to learn to bake. Since you start with frozen bread dough it really comes together in a flash.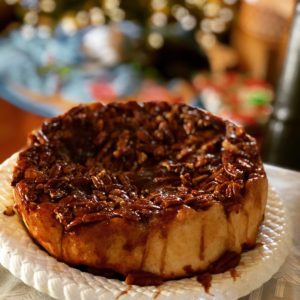 Easy Pecan Sticky Buns
1 package frozen white bread dough
1 cup brown sugar
1 tablespoon cinnamon
1/2 teaspoon pumpkin pie spice
1 cup chopped pecans
1/2 cup unsalted butter, melted
Thaw one frozen bread loaf in the refrigerator overnight. Spray an 8 inch round cake pan with nonstick cooking spray. In a medium sized bowl combine the brown sugar, cinnamon and pumpkin pie spice. Remove from the refrigerator and roll out the dough onto a lightly floured counter. Brush the dough with melted butter. Spread 1/2 of the sugar mixture onto the butter dough. Roll up the dough lengthwise and set seaside down. Cut the dough into 12 even slices. Pour the remaining butter into the bottom of the cake pan. Add the pecans and the rest of the sugar mixture to the bottom of the cake pan. Place the rolls in the cake pan 1 inch apart and in the middle. Cover the rolls and set in a warm spot for 2 hours. ***you can now freeze these rolls at this stage. Just set out to thaw and then rise when you are ready to use** Preheat the oven to 350 degrees. Bake the rolls for 20-25 minutes or until done. Invert the rolls onto a plate and serve warm.