I love the Fair! Most of all I love fair food. If you cannot make it to the fair this year then do not be sad! Make these bite size yummies in your own kitchen! They are simple and I promise will make you feel like you are at the Fair without all of the farm smells.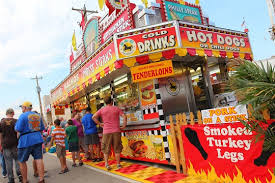 Midway Donut Holes
2 cans refrigerated biscuits, cut into 1/4ths
Peanut or canola oil
Cinnamon sugar, powdered sugar, chocolate syrup
In a large dutch oven filled 1/3 with canola or peanut oil bring to 375 degrees. Open the refrigerated biscuits and cut into fourths. Roll each biscuit piece to make a ball and carefully drop into the hot oil. Use a long wooden skewer to flip over the donut holes till they are browned on both sides. Remove the donut holes from the hot oil and place on a paper towel lined baking sheet. Using tongs, put donut holes into a paper sack and sprinkle with powdered or cinnamon sugar. Seal the top and shake to coat. Serve warm in paper sacks!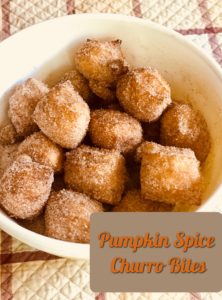 Pumpkin Spice Churro Bites
2 cups water
1 teaspoon LorAnn pumpkin spice flavor emulsion or vanilla
2 tablespoon sugar
1/2 teaspoon salt
3 tablespoon Braum's unsalted butter
2 cups all purpose flour
2 eggs
1 cup sugar
1 tablespoon pumpkin pie spice
Peanut or canola oil
In a medium sized saucepan bring the water, butter, vanilla pr pumpkin spice emulsion, sugar and salt to a rapid simmer. Remove from the heat and using a wooden spoon stir in the four rapidly until the mixture forms a ball. Allow the mixture to sit for 5-10 minutes. Using an electric mixer beat in the eggs till a batter forms. Place the batter into a large piping bag fitted with a large #8 tip. Mix together the sugar and pumpkin pie spice in a medium sized bowl.
To cook the churros: In a large dutch oven filled 1/3 with canola or peanut oil bring to 375 degrees.  Squeeze the pastry bag filled with the churro batter over the hot oil and cut with scissors when your desired size is reached. Fry till the churros are brown. Remove from the hot oil and place into a large bowl with the pumpkin spice sugar blend. Cover the churros with sugar and serve warm!