This month I got to take the trip of a lifetime. I am 46 and have waited all my life to go to Europe. We took three weeks and went from England to France and then Italy. It was a whirlwind of cultures, languages, food and fun. As you can probably guess I loved the food. Luckily, before I left I reached out to my friend, John Krueger, who lived in Paris for 3 years. I would watch his FB posts, throughout that time, as he would talk about all of the incredible foods he was eating! So, naturally I asked him to put me in contact with a chef that could show me how to cook the French way!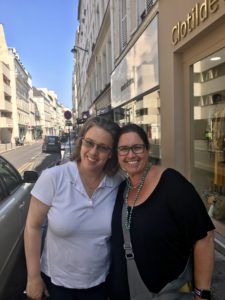 What a treat it was to spend the day with Chef Janine Springall! She is an American chef who lives in Paris. It was so much fun to be able to talk food and cooking in English while have her educate me on the "French way" of doing things. She took us to a rural market where we shopped for all of the ingredients we would need to prepare our meal. It was amazing. One of the most fascinating things I learned from Janine is that the vendors "select" the produce for us. For example, they would ask "when are you preparing or planning on eating?" Then they would carefully select the "perfect" fruit or vegetable for our use. I was in heaven.
French food became to me a treat. Decadence in every bite. What I did learn was that the food might be rich but not all of their dishes. The focus on fresh ingredients and eating in season became a way of life for me those few days. Tiny little coffees. A small roll for breakfast and a piece of fruit. Not every meal needed to be a buffet. I loved that simple life!
Here are two of my favorite recipes that I learned to make! I promise I will share Janine's incredible duck recipe later in the fall! My hubby still says it is the best duck he has EVER had in his life!
Ratatouille Tart
1 eggplant, cubed
1 zucchini, cubed
1 red onion, cubed
1 red pepper, cubed
1 yellow pepper, cubed
2 tablespoon Herbs de Provence
1 puff pastry sheet
Herbed goat cheese
Preheat oven to 400 degrees. Place the veggies on a baking sheet and sprinkle with salt/Herbs de province and drizzle with olive oil. Cook for 30 minutes. Remove from the oven and allow the veggies to cool.  Roll out the puff pastry on a baking sheet. Fold over the edges 1/2 inch and brush with butter. Bake for 10 minutes. Remove from the oven and then add spoonfuls of the veggies on top of the puff pastry. Add dollops of goat cheese and return to the oven to warm through for 10 minutes. Cut into squares and serve warm.
Cherry Clafoutis
1 1⁄4 cups milk
2⁄3 cup sugar, divided
3 eggs
1 tablespoon vanilla
1⁄8 teaspoon salt
1⁄2 cup flour
3 cups cherries, pitted
Unsalted butter
powdered sugar, for garnish
Preheat oven to 350 degree. Combine the milk, 1/3 cup sugar, eggs, vanilla, salt and flour in a blender. Blend for 1 minute until everything combined. Butter a 8 inch round cake pan. Pour 1/2 of the batter into the bottom of the buttered pan. Bake for 10 minutes until set. Remove from the oven and then add the cherries and sprinkle with the rest of the sugar. Pour the rest of the batter over the cherries and cook for 30 more minutes. Remove from the oven and sprinkle with powdered sugar to serve!