Well actually tomorrow is my Birthday. Every year I celebrate by sharing one of my favorite foods! Today at News9, I am in the mood for sweets. Actually I am always in the mood for sweets. Monday, I walked into Braums and to my surprise they have 6 news flavors! So, I promptly went to the freezer case and bought one of each! Ice cream is by far my most favorite food. It is well documented on here! So, I got to experimenting and came up with a little sundae that would be perfect to serve at your next party or just because you are feeling special! It is pink with frosted animal cookies, sprinkles and a cherry on top. It makes me feel like the little girl in Pinkalicious!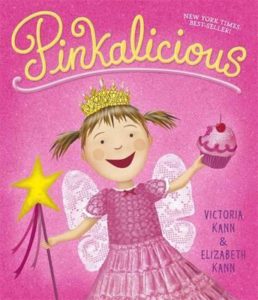 Pinkalicious Sundae
Mother's frosted animal cookies
1 Braum's Frosted Animal Cookie ice cream
spray whipped cream
pink sprinkles
maraschino cherry
Line each muffin tin cup with plastic wrap. Lay the animal crackers in the bottom and around the sides of each tin. Press the softened ice cream into the muffin cup until it is filled. Place in the freezer for at least 2 hours. Lift the sundaes up by the plastic. Remove the plastic and set the sundaes on a plate. Top with whipped cream, sprinkles and cherries.
No Bake Key Lime Cups
1 (8 ounce) container cream cheese
1/3 cup sugar
3 tablespoons key lime juice
zest of lime
1 container Cool Whip
1 cup graham cracker crumbs
1 stick unsalted butter
4 plastic tumbler cups
Melt one stick of butter combine with the graham cracker crumbs. Using a small cookie scoop place the graham cracker crumbs evenly into each of the cups. In a medium sized bowl beat together the cream cheese and sugar till smooth. Slowly mix in the key lime juice till combined. Fold in the Cool Whip. Using an ice cream scoop, evenly add the key lime cream mixture to each cup and chill for 4 hours. Before serving top with whipped cream and sprinkling of cracker crumbs and zest.