Whenever I am not in the mood to "cook", I often tell my family it is Sandwich Night. That means we clean out the deli meat/cheese drawer, drag out savory and sweet spreads that we collect in the door of the refrigerator and find some delicious bread in the pantry. Then we all get to creating the ultimate sandwich. I have tasted some amazingly creative twists on sandwich classics. Honestly, I have yet to have one that I don't really love. Here are two of my families favorites.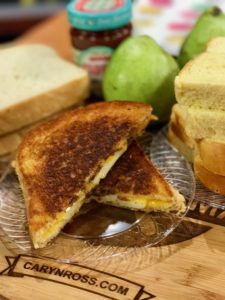 Grilled Cheese & Pear Sandwich
2 tablespoons unsalted butter
2 tablespoons Ginger Peach jam
2 slices white sandwich bread
2 slices Cheddar cheese
2 slices cooked bacon
1/4 small pear, thinly sliced
Melt the butter in a small skillet over medium-low heat. Spread the ginger peach jam on 1 slice of the bread and form a sandwich with the cheese, bacon, and sliced pear. Cook the sandwich, covered, until the bread is toasted and the cheese is melted, 2 to 3 minutes per side.
Monte Cristo Sandwich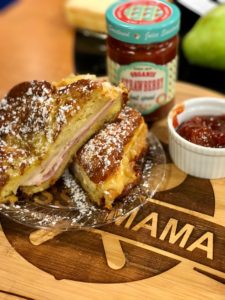 1 cup flour
2 teaspoons baking soda
1 large egg
1 cup milk
¼ teaspoon salt
2 Tablespoons sugar
2 slices Texas Toast or thick sliced Brioche bread
2 slices oven roasted turkey breast
2 slices Black Forest ham
2 slices swiss cheese
Vegetable oil
Powdered sugar
Strawberry jam
In a cast iron pan, add 1 inch of vegetable oil to the pan and heat on medium high till the oil reaches 325 degrees. In a large mixing bowl whisk together the flour, sugar, baking soda, salt, milk and egg till the batter is smooth. Pour the batter into a pie pan for easy dipping. Make the sandwiches by layering a piece of swiss cheese, 2 slices of turkey, 2 slices of ham and another slice of swiss cheese between two pieces of bread. Using toothpicks dip the sandwich in the batter on both sides. Carefully fry the sandwich in the hot oil till golden brown. Remove from the oil and set on a paper towel lined plate. Once the sandwich is slightly cool transfer the sandwich to a plate. Dust with powdered sugar and serve with a small bowl of strawberry jam for dipping.