In the world of cooking there are not that many "new" recipes out there. This one I used an old cooking technique my Mom used to do and then added a little Sassy flair to it. I promise that this recipe is simple. You will win the pie competition with your family during the holidays. Plus everyone is going to ask you for the recipe! So here it is: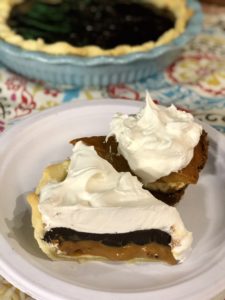 Turtle Fudge Pie
1 prepared pie crust, baked
1 can sweetened condensed milk
1 cup pecans, chopped
1/2 teaspoon sea salt
1 teaspoon vanilla
1 1/2 cups semi-sweet chocolate chips (you can use milk chocolate too)
3/4 cup whipping cream
Whipped Cream
The night before you make the pie, place the can of sweetened condensed milk in your crockpot. Cover the can completely with water. Cook on LOW for 9 hours. Make sure the can stays covered with water.
The next day, cook your pie crust at 425 degrees for 12-15 minutes until golden brown. Remove the crust from the oven and allow it to cool.
Open the can of sweetened condensed milk and scoop out the caramel cream into a medium-sized bowl. Stir in the pecans, sea salt and vanilla. Pour the caramel mixture into the bottom of the pie. Spread evenly.
In a saucepan over low heat, stir the chocolate chips and whipping cream till the chocolate has melted. Pour the warm chocolate mixture over the top of the caramel and then chill the pie for at least 4 hours in the refrigerator. Before serving add a layer of whipped cream on top. Sprinkle with more pecans and SERVE!