Unless you have been living under a rock then you have heard all about Starbucks Pumpkin Spice Latte are back. For most of us we rush out and grab one of these spicy fall beverages that leave us wishing for cool air and sweatshirts. Then we realize that these little cups of yum are brutal to our pocketbooks. Why not make your own fall drink. Well, I have come up with a drink that will take your fall beverages to the next level!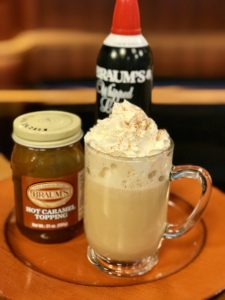 Almond Caramel Spice Latte
2 tablespoon Braum's Caramel Sauce
1 tablespoon Maple almond butter
1/4 teaspoon pumpkin pie spice
1 cup whole milk
4 ounces expresso
Whipped cream
In a small sauce pan over medium heat stir together the pecan butter and caramel sauce. Pour in the milk and pumpkin pie spice and heat till the mixture is hot (not boiling). Pour the hot expresso into a mug. Pour the milk mixture through a strainer into the mug. Top with whipped cream and cinnamon.