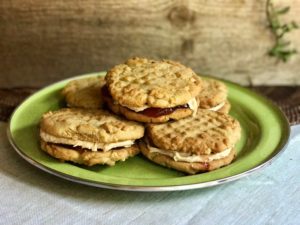 Right now it is hotter than blue blazes outside! So, this week I am having a cookie camp! Fire up for making delicious treats and memories with those you love. I promise there is nothing that can bring a smile to someones face than these cookies!
Here is an easy "entry" level cookie that your little ones will love to make!
Kaleidoscope Cookies
1 roll refrigerated sugar cookie dough
1 egg, beaten
4 different colored sugar sprinkles
Preheat oven to 350 degrees. Line a baking sheet with parchment paper. Remove the wrapping from the cookie dough and place on a lightly floured surface. Roll out the cookies dough till it is in a 9×12 rectangle. Brush the cookie dough with beaten egg and then add the colored sugars in a row horizontally on the dough. Gently press the sugar into the dough. Roll up the dough tightly like a cinnamon roll and place in the freezer to all the dough to chill for 15 minutes. Remove the dough from the freezer and cut into 1/4 inch slices and place on a baking sheet. Cook for 8-10 minutes or until slightly golden. Cool and serve.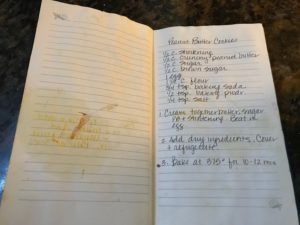 This is my personal "bible" of recipes (see the stains and cryptic writing) that my Mom started for me years ago. It is one of my most cherished things I own.
PB&J Sandwich Cookies
Cookie Dough:1/2 cup unsalted butter, room temperature
1/2 cup chunky peanut butter
1 egg
1/2 cup brown sugar
1/2 cup granulated sugar
3/4 teaspoon baking soda
1/2 teaspoon baking powder
1/4 teaspoon salt
1 1/4 cup all purpose flour
fruit jam of your choice
Preheat oven to 375 degrees. In a large bowl beat together the butter and peanut butter till smooth. Add in the sugars and continue beating. Add in the egg and mix into the dough. Combine all of the dry ingredients in a separate bowl and then while the mixer is on low slowly add in the flour and continue mixing till all of the flour is incorporated. To make the cookies: place a ping pong ball sized scoop on the baking sheet and then press with tines of a fork on top. Bake for 8-10 minutes or until golden brown. Remove from the oven and cool completely.
Peanut Butter Frosting:
1/4 cup unsalted butter
1/4 cup creamy peanut butter
2 cups powdered sugar
2-3 tablespoons milk
1 teaspoon vanilla
In a medium sized using a hand mixer mix together the butter, peanut butter, and vanilla. Add in the powdered sugar and milk till the mixture becomes creamy and spreadable.
To assemble the sandwich cookies: Simply add a schmear of frosting to the back of one of the cooled cookies. Spread the frosting evenly and then add the jam of your choice and top with another peanut butter cookie. Store in an airtight container in the fridge.