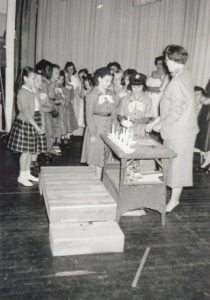 Monday I shared 2 super easy recipes to makeover Girl Scout Cookies on News9. I was amazed at all the feedback and love for these boxed cookies! The best response I received was from a Nancy, a viewer. She sent me a picture of my Mom and her Girl Scout Troop celebrating the candle lighting ceremony. (That is when you go from a Brownie to a Girl Scout.) It floored me! I was so touched. Not only was my Mom in the picture but also her lifelong best friend Dottie Briggs (3rd girl on the left.) This picture showed me that Girl Scouts is so much more than cookies. They are delicious and teach the girls how to be resourceful. Work toward a common and personal goal. Most importantly it teaches unity! This picture is from the 50's in Elsinore, CA. Even then the Girl Scouts were focused on girls of all races, religions, financial status, etc working together. I am so thankful for my years and now I know why my Mom always encouraged me to be a Girl Scout!
With all of that said… Here are 2 recipes you can make using 2 of the classic Girl Scout cookies!
Brownie Ice Cream Sandwiches
1 box Ghirardelli Chocolate Supreme Brownie Mix
1 egg
1/4 cup unsalted butter, melted
1 sleeve Thin Mint Cookies, crushed
Braum's Mint Chocolate Chip Ice Cream
Preheat oven to 350 degrees. Spray a 9×13 baking pan with nonstick cooking spray. Line the baking pan with parchment and allow the extra paper to hang over the sides.  In a medium sized bowl beat together the brownie mix, egg and butter till blended. Add in the Thin Mint cookies. Spread into the bottom of the baking pan. Bake for 20 minutes and remove from the heat and cool completely. Cut into squares. To make the ice cream sandwiches: simply add a scoop of Mint Chocolate Chip on top of one brownie and top with another. Serve or wrap them up individually in plastic wrap and store in the freezer!
Blueberry Almond Muffins
1/2 cup unsalted butter, room temperature
1 cup sugar
2 eggs
1 teaspoon vanilla or Princess flavoring
2 teaspoon baking powder
1/4 teaspoon kosher salt
2 cups all purpose flour
1/2 cup milk or half and half
1 cup blueberries
1 sleeve Trefoil cookies, crushed
1/4 cup almond slivers, chopped
Preheat oven to 375 degrees. Line a muffin tin with muffin liners. In a large bowl using an electric hand mixer cream together the butter and sugar. Beat in the eggs and vanilla. Mix all of the dry ingredients together in a small bowl. Remove 1/4 cup of dry ingredients and toss together with the blueberries in a small bowl. Mix in half of the flour mixture to the mixing bowl and at the same time pour in 1/2 of the milk. Repeat until all of the milk and flour have been added and throughly incorporated. Fold in the blueberries/flour mixture.  Using an cookie scoop fill the muffin cups till they are equally full. Sprinkle with crumbled cookies and almond slivers.