After the last few months, it feels good to try and lighten the mood when talking about politics. There is no better way than getting back to basics. Cookies. One of my favorite parts of getting to know a new incoming President and his family is to try the cookie recipe that they submitted to Family Circle magazine during the election. Through the years, I have made each incoming Presidents cookie recipe. I know it sounds trivial, however, these leaders are real people. They bring to the White House their own likes and dislikes when it comes to food.  Today at News9, I am sharing our new First Lady's cookie recipe in addition to one of my all time most favorite cookies that just happens to be a former First Lady's recipe!
In honor of our new incoming president, this is Melania Trump's cookie recipe! I have to say she has great taste in fashion and even better taste when it comes to a cookie! This is a basic crisp sugar cookie but instead of granulated sugar it calls for powdered sugar and sour cream. This simple switch adds tenderness to this delicious cookie! They are delicious plain or for a little bit of fancy drizzle with chocolate or serve with lemon curd. I encourage you to make a batch with the kids this winter!

Melania Trump's Star Cookies
2 cups all-purpose flour
½ tsp baking soda
6 tbsp unsalted butter, softened
1 cup confectioners' sugar
2 egg yolks
1 egg white
2 tbsp sour cream
Combine flour and baking soda. Set aside. Beat butter and sugar until blended. Add egg yolks, egg white and sour cream. Beat until smooth. Beat in flour mixture until dough just comes together. Form into 2 disks, wrap in plastic and refrigerate at least 30 minutes. Heat oven to 350°. Roll out one disk on liberally floured wax paper with a floured rolling pin to 1/8-inch thickness. Using a 21/2-inch star cutter, cut out star shapes and place on a wax-paper-lined baking sheet. Repeat with second disk. Gather up scraps, form into a disk and refrigerate. Bake 10 minutes per batch, until lightly golden. Slide cookies onto a cooling rack and cool. Re-roll scraps, cut out additional stars and bake.
**Recipe from Family Circle Magazine
This next cookie is honestly my MOST FAVORITE COOKIE! I have made it for years and everyone always asks me for it. I call it The Kitchen Sink Cookie, since I have added a few things, but it came from Mrs. Bush's amazing recipe. This recipe take changes like a champ! I have made it as cookies but recently have started to make them into bars. Either way this recipe is a game changer. For example: If you do not like coconut, add Rice Krispie's. If you like toffee bits, then add in 1/2 of the chocolate chips and the rest in toffee bits! It is so so forgiving! I encourage you to give them a try!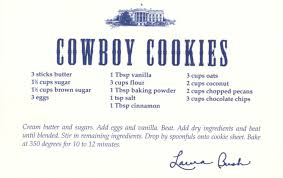 Laura Bush's Cowboy Cookies
3 cups all-purpose flour
1 tablespoon baking powder
1 tablespoon baking soda
1 tablespoon ground cinnamon
1 teaspoon salt
1 1/2 cups (3 sticks) butter, at room temperature
1 1/2 cups granulated sugar
1 1/2 cups packed light-brown sugar
3 eggs
1 tablespoon vanilla extract
3 cups semisweet chocolate chips
3 cups old-fashioned rolled oats
2 cups sweetened flake coconut
2 cups chopped pecans (8 ounces)

Heat oven to 350 degree F. Mix flour, baking powder, baking soda, cinnamon and salt in bowl. In 8-quart bowl, beat butter on medium speed until smooth and creamy, 1 minute. Gradually beat in sugars to combine, 2 minutes. Add eggs, one at a time, beating after each. Beat in vanilla. Stir in flour mixture until just combined. Add chocolate chips, oats, coconut and pecans. For each cookie, drop 1/4 cup dough onto ungreased baking sheets, spacing 3 inches apart. Bake in 350 degree F oven 17 to 20 minutes, until edges are lightly browned; rotate sheets halfway through. Remove cookies to rack to cool.