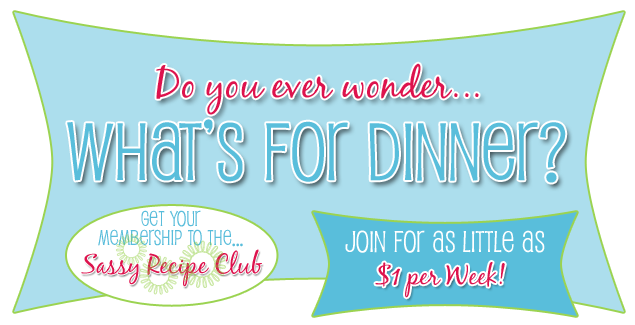 ;
Here is how it works:
Pick which weekly foodletter(s) you would like to receive.
We will charge your credit card every 3 months for your foodletter subscription. You can cancel at any time by simply sending your email request to carynross@me.com.
Simply check your email inbox every Friday for your new foodletter(s) filled with tips, ideas, and a full week of new recipes! Then print out your shopping list and you are ready to get cooking!
Check out our Recipe Clubs~

Sassy Menu Club – Are you in need of recipes guaranteed to make you and your family and friends swoon? Sign up now and receive once a week my meal plans with recipes, cooking tips and ideas anyone can do. As if that was not enough I will even make you a shopping list that will make going to the grocery a breeze! I love to grocery shop and who would not love a coupon? Well my newsletter will include those as well! All of this for only! Only $4.00/month
Sassy Mama Lite Menu Club – Sometimes you have to pump the breaks and get healthy. Don't fear! I love fresh ingredients and sensible cooking techniques. Since this girl can't keep quiet I will share all of my cooking tips and ideas to make your experience in the kitchen not only fun but easy! Get this package if you want a weeks worth of Weight Watcher recipes with point counts and a shopping list along with coupons! No more scrambling when you get home only to settle on a frozen dinner. Fresh homemade cooking that you never need to feel guilty about eating or spending on! Only $4.00/month
I Want It All Menu Club- This package gets you both the Sassy and Sassy Lite Menu Club plans twice weekly. I love this plan because it allows you to get all of my amazing lite recipes as well as those that are full throttle. Each newsletter will include a shopping lists to make your trip to the grocery a breeze, cooking tips, and even coupons that will allow you to keep some coin in your pocket!! Only $7.00/month
Super Sassy Membership-Get both the regular recipe club as well as the lite club twice weekly! Then I will be sending you a special newsletter dedicated to my VIP members. This club means you have compete access to me. If you have an upcoming party or event and need help planning the theme, menu or decorations. You can email me and I will respond asap with a complete plan! No more buying books or searching the internet. I will do that for you. Since you are VIP's I will be having drawings and giveaways exclusive only to my VIP members! Within this plan I will also promise to include great craft ideas and templates to keep you busy when you are not in the kitchen. Coming this Fall you will get one of the 1st signed copies of my new cookbook! So, get excited and join today!! I promise you will love this!!!

Only $17.00/month